BY EMILY MIBACH
Daily Post Staff Writer
Redwood City Police said yesterday that City Council candidate Jason Galisatus wasn't the victim of an anti-gay hate crime when he found a word scrawled on a fence at his apartment complex, saying the graffiti was present months before he moved into his apartment.
And while Galisatus thought the offensive writing on the fence was "#gay," police said it could also be "#gau" or "#gav," which are regularly used hashtags.
Lt. John Gunderson said in a statement that police checked Google Earth and found that the word had been on the fence several months before Galisatus even moved in.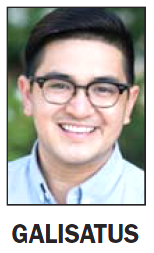 Galisatus first brought up the graffiti at a candidates forum last week, just hours after he discovered the word on his fence.
At the forum, Galisatus had disagreed with another candidate's answer to a question about the acceptance of diversity in Redwood City, saying that the city's residents are not universally accepting of diversity and cited as an example the graffiti he had discovered earlier that day.
Galisatus said he noticed the graffiti around 4:30 p.m. on Thursday when walked to his mailbox at his apartment complex and noticed one of his campaign signs, which was affixed above his fence, had been knocked down.
Galisatus said yesterday he's relieved that he and his partner were not the targets of the graffiti on the fence outside of their apartment.
"I am surprised as anyone at this finding. We talked to our neighbors, landlord and friends, and no one noticed the message prior to my discovery," Galisatus wrote in a blog post.
As for the campaign sign, police said yesterday it was either taken down or fell due to the wind, but there was no evidence of damage or defacement of the sign.
"Although the initial appearance of the scene could lead a reasonable person to believe a hate crime may have occurred, based on the evidence of this investigation, the police department, does not believe the graffiti was targeted towards Galisatus. As such, the investigation will be closed," Gunderson's statement said.
But moving forward, Galisatus says this incident can increase the dialogue concerning diversity in Redwood City.
"As I have experienced prejudice firsthand in our community, even along the campaign trail, I hope this incident serves as a reminder for all of us that hate still exists, even in Redwood City," Galisatus went on to write.
Galisatus is one of seven candidates seeking three seats on Redwood City council.