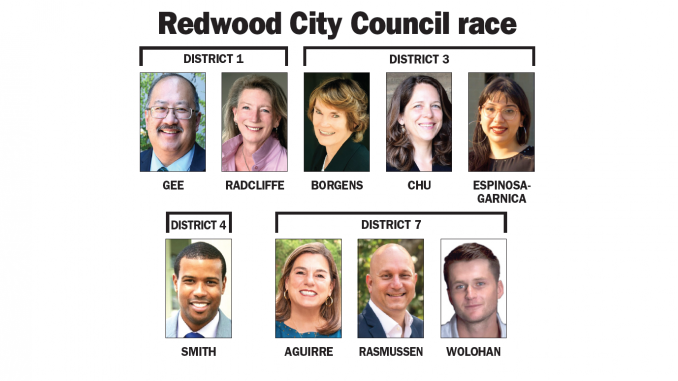 BY EMILY MIBACH
Daily Post Staff Writer
For the first time, Redwood City residents this fall will only vote for one candidate for City Council.
The city was threatened with a lawsuit that claimed the council wasn't racially diverse because minority candidates had to win in a citywide race. The threatened suit argued that if the city was broken down by districts, it would be easier for minorities to win a seat on council.
So instead of voting for three or four candidates for council, voters will now select only one person to represent their district.
Those districts are:
• District 1 for Redwood Shores;
• District 3, comprising the Stambaugh Heller and Friendly Acres neighborhoods;
• District 4, which represents the Five Points area;
• District 7, which includes the Farm Hill area.
Only one candidate, Planning Commissioner Michael Smith, is running for District 4, but he is still appearing on the ballot because the council cannot cancel just one district election.
Running for District 1 is former mayor Jeff Gee and longtime planning commissioner Nancy Radcliffe.
Gee, 60, opted not to seek re-election in 2018 after being on the council for eight years. But he says that during the past two years he has been off of council, things have changed "tremendously," especially with all of the economic uncertainties COVID-19 has brought along.
As such, Gee says the city needs an experienced leader to help the city weather the current storm. He also says that since he has been off of council, there has been no progress made on the Woodside Road/Highway 101 interchange, improvements to the Bayfront Canal, or the levees in Redwood Shores.
Gee, a general manager at Swinerton Management and Consulting, says if he is elected, his priorities will include moving forward some of the projects that have stagnated so that when funds are made available, the city can jump on them, have a COVID-19 safety plan in place and keep it updated and to work on increasing the diversity on the city's commissions.
Gee has endorsements from the California Apartment Association, San Mateo County Association of Realtors, the county's labor and building trades councils, all five of the Belmont Redwood Shores School Board, County Supervisor Dave Pine and former Mayors John Seybert and Jeff Ira.
Radcliffe, 68, has been on the planning commission for 19 years and said she's decided it's time to take the next step to help Redwood City be the best. Radcliffe is retired, but before that was a small business owner. She has also been on the board of CityTrees, a group that plants trees in and around Redwood City.
Radcliffe says if elected her top priorities will be safety, including maintaining safe levees in Redwood Shores, keeping a balanced budget and housing.
Radcliffe has endorsements from all of her fellow planning commissioners, SEIU Local 521, the Sierra Club, all council members except for Giselle Hale and Shelly Masur and County Supervisors Carole Groom, Don Horsley, David Canepa and Warren Slocum.
District 3
In District 3, incumbent Janet Borgens is running against Redwood City Forward co-founder Isabella Chu and Lissette Espinosa-Garnica, a member of the Democratic Socialists of America.
Borgens, 72, has been on council since 2015. Before being elected, she served on the city's planning commission for nine years. Borgens says that her role on council is to balance the needs of businesses, neighborhoods, workers and residents all while respecting the different needs of the city.
Borgens, a cosmetologist, says that the council needs to protect the city's rich history but also plan for its future growth.
Among her priorities if re-elected are to find ways to bring more child care centers to the city, further look into housing that's affordable to low-income and middle-class residents and to work with Caltrain to make it more affordable for everyone.
Borgens boasts endorsements from the Sierra Club, SEIU Local 521, the county's Democratic Party, all of the county supervisors except for Carole Groom, Santa Clara County Supervisor Joe Simitian, all council members except for Giselle Hale and Shelly Masur, state Senator Jerry Hill, D-San Mateo and Congresswoman Jackie Speier, D-San Mateo.
Chu, 52, is the chair of the Friendly Acres Neighborhood Association and the founding member of Redwood City Forward, a pro-growth group.
Chu, who works at the Stanford Center for Population Health Sciences, says that she is running to change policy so she can ensure that her neighbors can stay in the area by accessing housing that's affordable to them.
Chu's priorities include looking at new ways to add affordable housing to the area, which could include allowing duplexes or triplexes and she also wants to work on improving the safety of her district by championing a plan to stop the flooding that occurs in the neighborhood.
Chu does not have any supporters listed on her website.
Espinosa-Garnica, 24, is a caregiver and teacher's assistant. She says when she started getting involved in local politics, she was disappointed with her observation that the council does not reflect the city's community. She says she wants to bring the best interests of workers, renters and communities of color who have been neglected and bring their voices to the table.
Espinosa-Garnica's priorities would include holding developers accountable, defunding the police and adding housing for low-income and middle-class residents.
District 7
In District 7, longtime councilwoman Alicia Aguirre is running against former police officer Chris Rasmussen and Mark Wolohan, a facilitator of a local nonprofit.
Aguirre, 65, has been on the city council since she was appointed in 2005. In every election since, she has been re-elected. Before joining council, she was on the Redwood City school board from 1999 to 2005.
Aguirre says she is seeking re-election to make sure the city continues to manage the COVID-19 crisis and because of the crisis, there is a need for proven experience and leadership at City Hall, which she provides.
If re-elected, Aguirre says her priorities are bringing more child care businesses to town, weathering the uncertain COVID-19 economic impact, adding housing and improving transportation.
Aguirre has been endorsed by councilwomen Diane Howard, Masur, Hale and Borgens, the entire board of supervisors, the county Democratic Party, the county's labor council, county schools Superintendent Nancy Magee, among many other local officials.
Rasmussen, 50, recently retired from the Redwood City Police Department, where he received numerous awards for his work in the community, most recently in 2019 for his work with the city's homeless community.
Rasmussen says that when his retirement approached, some residents said they were not sure who would be around to help them once he was off the force. Some even suggested that he run for council, which, after considering it, Rasmussen decided to run to continue his work in bettering Redwood City.
Rasmussen says his priorities would include transparency within City Hall, working on potential changes to the culture at the police department, looking at ways to reduce climate change and add affordable housing.
Rasmussen has endorsements from former Assemblywoman Sally Lieber, the Sierra Club, SEIU 521, Carpenters Local 217 and Redwood City Port Commissioner Ralph Garcia.
Wolohan, 26, works for Menlo Park nonprofit Riekes Center for Human Enhancement, which provides athletics and outdoor opportunities to people. He also played professional basketball in El Salvador last year.
Wolohan says he is running because he was born and raised in Redwood City and felt that it is part of his purpose to serve in politics, which he credits to watching TV news with his dad as a young child.
He says his top priorities will be equity, housing and the environment.
Wolohan has endorsements from his co-workers at the Riekes Center, resident James Clifford and business owner Amir Jaber.