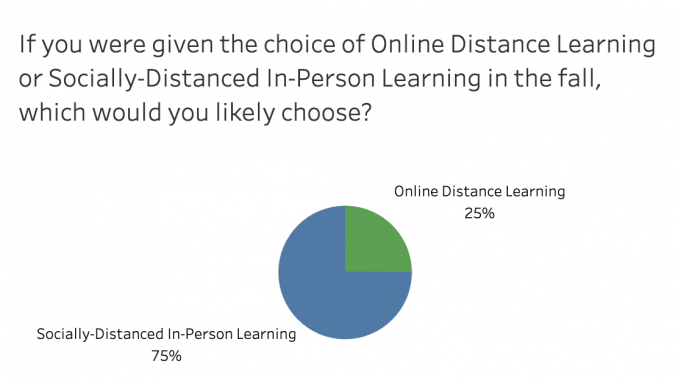 BY SARA TABIN
Daily Post Staff Writer
Three quarters of Palo Alto parents want in-person schooling with social distancing this fall instead of online learning, according to a school district survey that received 3,476 responses.
Superintendent Don Austin said in a letter today (June 8) that school will begin in August (Aug. 12 for students in grades six through 12; Aug. 13 for K-5). The district has not made a final decision about how classes will be structured given the coronavirus pandemic.
The California Public Health Department released guidelines today for in-person learning. They include requiring teachers and other school employees to wear masks, encouraging students to wear masks, putting desks six feet apart and taking students' temperatures when they arrive on campus.
Austin said the district will keep seeking input from parents about whether they want online learning, in-person learning or a hybrid option.
Most parents who responded to the district's survey said they want their children to receive more than two hours of work a day if the school continues with remote learning. Only 10% said they want less than an hour of work while 31% said they want kids to get more than four hours of work.
The survey asked parents how things went with online learning this spring.
According to the survey, 28% of parents said their kids are currently getting less than an hour of work. About half the parents said their kids' current workloads is good while 33% said kids are getting too little work.
Parents of high school students reported that students had more hours of work than middle and elementary school students, but 33% of high school parents said students haven't been getting enough work.