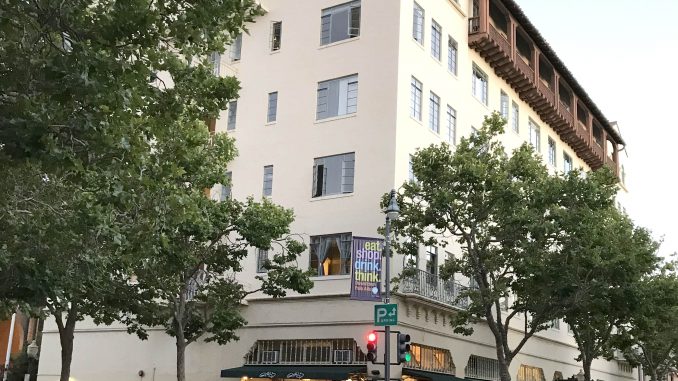 BY ALLISON LEVITSKY
Daily Post Staff Writer
The city of Palo Alto has told the new owners of the Hotel President that they won't be allowed to turn the historic building back into a hotel, possibly saving the homes of the residents of the building's 75 studio apartments.
Assistant Planning Director Jonathan Lait sent a letter Tuesday to Adventurous Journeys Capital Partners President Timothy Franzen, the buyer of the building, reversing the city's originally accommodating position on the sale and conversion of the building.
Before the sale closed, Lait met with Franzen on June 7, when Franzen introduced himself and shared plans to buy the historic building and convert it back into a hotel.
"I asked at the meeting if your team had reviewed the city's municipal code for compliance with applicable provisions and your representative, Richard Hackman, at the time indicated only a need to address parking and obtain design review approval," Lait wrote.
After other private meetings with City Council members and City Manager Jim Keene, the sale went through.
That's when Jeff Levinsky, of the Palo Alto Neighborhoods organization, stepped in.
"I was stunned that the city had said it was OK, that no one had brought up the notion because these grandfathering laws are designed to prevent this sort of thing," Levinsky told the Post. "And I was surprised that anyone would buy the building and try to convert it."
Levinsky contacted the city about the grandfathering laws that prevent oversized buildings from being converted to a use that doesn't conform to current zoning. Within a few days, Keene changed his tune on the sale, telling council that the city would need to review whether the conversion was legal.
"The city and developers have gotten to be rather contemptuous of the law. They just ignore it," Levinsky said. "Until people point out, 'No, no, no, the law has protections in it.'"
Palo Alto Municipal Code Section 18.18.120(b) prevents developers from remodeling, improving or replacing overly large, old buildings in the city's Downtown Commercial district to a different use, according to Lait.
The Hotel President at 488 University Ave. has retail on the street level and apartments on the upper six stories. It is too tall and too dense to be converted under the circumstances.
The grandfathering laws allow older buildings that are too tall or dense to comply with the current zoning code to remain in use, but prevents them from changing use unless the new use complies with the zoning code.
"And that is impossible for this building to become a hotel because it changes use," Levinsky said.
The Birge Clark-designed building began its life in 1929 as a hotel. The name originally was President Hotel. But as the downtown lost shoppers in the 1960s, and the demand for hotel rooms declined, the owners converted it into apartments in 1969 and changed the name to Hotel President.
Simone Boswell, a tenant at the Hotel President, said last night that she had heard "something was coming down," but that residents didn't "officially know anything."
"We are encouraged by this news and grateful to the city of Palo Alto for listening to our request to carefully consider the new owners' intended use for the President apartment building, our home," Boswell said in an email. "We have been encouraged and buoyed by the support of the larger community so far to our vision of what Palo Alto is at its best."