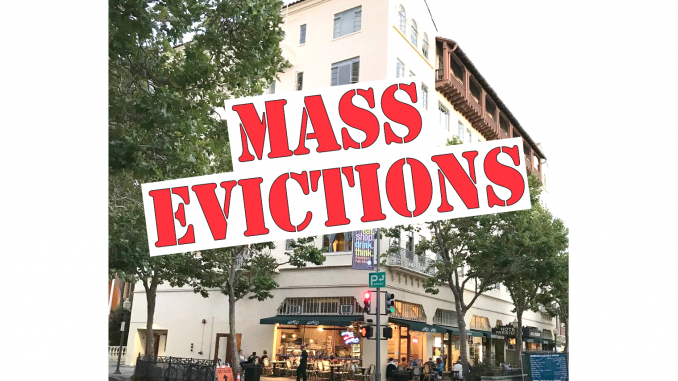 BY ALLISON LEVITSKY
Daily Post Staff Writer
Tenants of the Hotel President will get a $7,000 payout when they're evicted from their downtown Palo Alto studio apartments this November — but only if they make less than $93,100 a year.
Palo Alto City Council voted 7-1 around 12:50 a.m. on Tuesday (Aug. 28) to pass an emergency ordinance that will require landlords of large apartment buildings to pay evicted tenants for the cost of relocation, between $7,000 for studios and $17,000 for three-bedroom apartments.
Councilman Greg Scharff proposed limiting relocation assistance to tenants who make less than 80% of the area median income in Santa Clara County, which is about $66,150 for a single person.
Later, the council settled on restricting the payouts to those who make up to 100% of area median income, or $106,400 for a household of two.
Several council members, including Tom DuBois and Karen Holman, pushed to make the ordinance apply to those making up to 120% of area median income, or $111,720 for a single person.
"To be faced with a relocation, to be faced with displacement, is — I don't think it matters how much money you make," Holman said. "It's stressful to try to find a replacement place to live in a short period of time. Trying to find replacement housing is not that simple."
City Attorney Molly Stump said the city had decided to make the ordinance only apply to buildings with 50 apartments or more to reflect the "natural break" in the size of different multi-family buildings in town.
The emergency ordinance was proposed after the Hotel President was sold for $65 million in June to Adventurous Journeys Capital, a Chicago-based hotel chain that wants to convert the 75-unit building back into a hotel.
The buyers informed the tenants that they have until Nov. 12 to leave their $2,000 apartments and offered them $3,000 for relocation expenses.
On Monday, attorneys for AJ Capital from the law firm Rutan and Tucker sent a letter to the city disputing that the ordinance would apply to the Hotel President because the evictions are already underway.