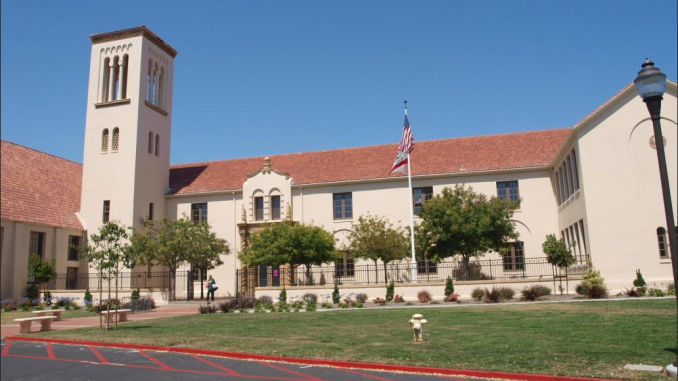 BY ALLISON LEVITSKY
Daily Post Staff Writer
A former Palo Alto High School student accused of forcing a 14-year-old girl to have oral sex in a school bathroom in October 2016 has been sentenced to 60 days in Santa Clara County Juvenile Hall for two prior sexual assaults, prosecutors said yesterday (Aug. 27).
The teen, whom the Post is not identifying because he was a minor at the time of the assaults, was found guilty Aug. 6 of one felony count of rape and one felony count of forced oral copulation for incidents in January 2016 and May 2016.
Both assaults involved the same victim, according to the Santa Clara County District Attorney's Office.
The teen was sentenced to juvenile hall on Friday (Aug. 24), but won't have to register as a sex offender.
In October 2015, he forced a teenage girl to have oral sex in a church bathroom in Palo Alto. Prosecutors filed a sustained juvenile petition — for minors, the equivalent of a guilty verdict — against the teen for that assault.
The young woman whom the teen assaulted in October 2015 spoke in court Friday, prosecutors said.
The Palo Alto school district learned of that conviction in February 2017, but allowed him to remain at the school despite the fact he had been accused by another girl, the 14-year-old who appeared on Channel 2 last year describing an October 2016 assault.
The district's decision to allow the teen to remain at Paly and fumbled response to the October 2016 assault were probed by the Office for Civil Rights and harshly criticized by community members and a law firm hired by the school district, Cozen O'Connor.
Backlash for administrators Since then, several school and district administrators have stepped down, including Superintendent Max McGee, Chief Student Services Officer Holly Wade and Paly Principal Kim Diorio.
Prosecutors wouldn't say whether he was charged in the October 2016 assault, citing confidential juvenile records. The teen's lawyer, Stephanie Rickard, said in court that the teen had attended a special academy and done several months of counseling, prosecutors said. Before this month he hadn't served any time in juvenile hall.