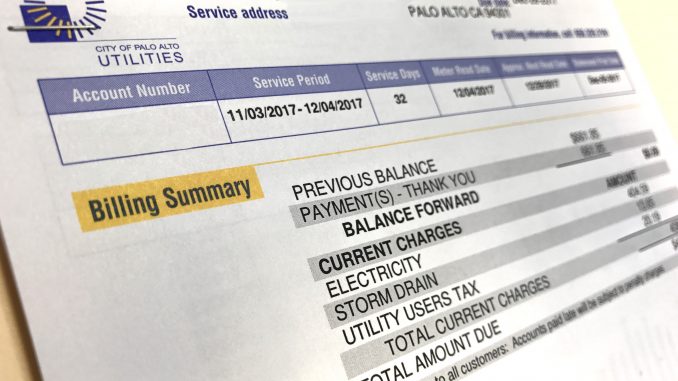 BY ALLISON LEVITSKY
Daily Post Staff Writer
A woman is waging a class-action lawsuit against the city of Palo Alto, claiming that residents and businesses have been hit with illegal taxes under the guise of electricity and natural gas fees charged by the city's utilities department.
Miriam Green, a Palo Alto resident, claims that the city's practice of transferring surplus utility revenue to the general fund, without being earmarked for a specific purpose, is illegal and characterizes the revenue as a tax. If the surplus revenue is a tax, it should have gone up for a vote, she argues.
Green filed the suit on Oct. 6, 2016, after filing an administrative claim weeks earlier on Sept. 23. City Attorney Molly Stump rejected that claim on Nov. 8, 2016.
Green is being represented by a team of lawyers: Thomas Kearney and Prescott Littlefield of the Glendale firm Kearney Littlefield, Gene Stonebarger and Richard Lambert of the Folsom firm Stonebarger Law and Moris Davidovitz of the San Francisco firm Davidovitz and Bennett.
Palo Alto is unusual in the state because it provides residents and businesses with six utility services: water, sewage, electricity, natural gas, trash pickup and storm drainage, and it's done so for more than 100 years. Millions of dollars in utilities revenue subsidize the city's libraries, parks and police and fire departments.
Utility fees subsidize city services
Green argues that it's the city's responsibility to prove that the charges aren't a tax and that the amount is no more than necessary to cover the costs of the utility service. She said the city's practice is illegal under Proposition 26, the Supermajority Vote to Pass New Taxes and Fees Act, approved by California voters in 2010.
Green also cites Proposition 218, the Right to Vote on Taxes Act, passed by state voters in 1996, in arguing arguing that the charges are illegal because, if they constitute a tax, that tax should have come up for a vote.
She argues that the city is charging residents higher rates to subsidize rates for businesses and public utilities like street lights.
Green also objects to the city utility users tax, a 5% tax on gas, water and electricity, which is imposed by many cities in California. Green says this constitutes a "tax on a tax," which is illegal.
Green wants to stop the city from transferring "surplus" utilities funds into the general fund, to refund this money and to obtain voter approval for "what is, in effect, a tax."
City responds
In a response filed on March 10, attorneys for the city denied that the transfer of money from its electricity enterprise funds to its general fund was illegal, stating that the city's charter authorizes the transfer and use of the funds for general fund purposes. They also denied that the utility users tax was illegal.
Attorneys for the city pointed out that the state constitution bars an injunction against revenue measures such as the city's electric and gas rates, or its transfers from its electric and gas funds to its general fund.
City Council is scheduled to meet behind closed doors to discuss the lawsuit on Jan. 22.
Green's attorneys are set to meet with lawyers for the city for a case management conference on April 20.