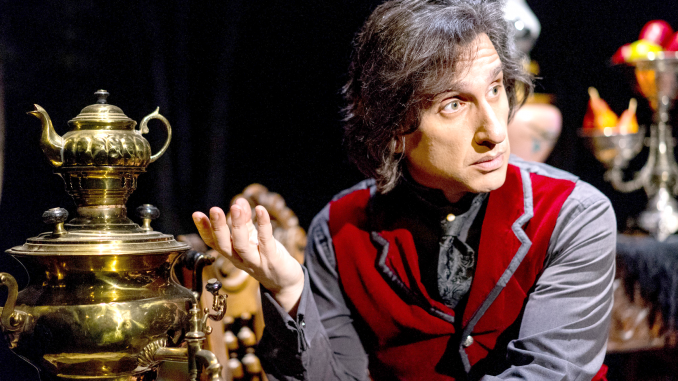 REVIEW
BY JOHN ANGELL GRANT
Daily Post Theater Critic
Hershey Felder is at it again.
The man who has written and performed one-man theatrical piano biographies of Leonard Bernstein, George Gershwin, Irving Berlin, Ludwig van Beethoven, Frederic Chopin and Franz Liszt, has pulled another one out of his bottomless bag of composer tricks.
This time it's "Our Great Tchaikovsky," which opened over the weekend, presented by TheatreWorks, at Mountain View Center for the Performing Arts.
The program is a walk through the life of Russian composer Pytor Ilyich Tchaikovsky, recounted by Felder at the piano playing snippets from Tchaikovsky's work as he speaks — sometimes as the composer, sometimes as an omniscient narrator, and sometimes as Felder himself.
The production is generally smooth, although the chronicle early on sounds more like an encyclopedia entry, than a dramatic narrative. It struggles to find a story.
Homosexuality a theme
As themes, Felder emphasizes Tchaikovsky's struggle with his homosexuality; and his desire to be a composer, rather than a performer.
Framing this tale at both the top and bottom of the show, Felder reads a letter from the Russian government, inviting him to perform his play in Russia.
Felder then, as Felder, comments on the persecution of homosexuals both during Tchaikovsky's lifetime, and by the current Russian government.
The biographical run-through of Tchaikovsky's life includes an early boyhood with parents who discourage his piano playing, saying, "Music is for ladies." Later there is boarding school; a cholera epidemic that kills his mother; an early civil service job to make money; and then a chance at music school.
Marriage emerges as a solution to homosexuality. Unexpectedly Tchaikovsky finds a patroness who allows him to compose for 14 years. After she withdraws support, he has to go on the road to pay the bills.
Going into this solo piano show, I wondered how Felder would present Tchaikovsky's music, when the composer's best work is orchestral. This wasn't an issue with other Felder's other composers, such as Berlin, Bernstein and Gershwin. Even Beethoven and Chopin wrote great piano music. That's just not the case with Tchaikovsky.
The answer turns out to be that Felder sometimes sings Tchaikovsky's orchestral parts while playing piano; or they are played on a sound track to his piano playing.
Less music, more talk
And that, in fact, is one of the limitations of the show. You cannot capture the texture of Tchaikovsky's orchestral music on a piano. As a result, there is less music and more talk in "Our Great Tchaikovsky" than in Felder's other shows.
Mountain View highlights include segments around Tchaikovsky's Fourth and Sixth Symphonies; and the Nutcracker, which apparently he composed largely in New York.
From a performance perspective, Felder gives his character a Russian Jewish accent, which is off-target. And some of the performance feels satirical, which jars in contrast with Tchaikovsky's music.
Also serving as scenic designer, Felder has assembled 19th century Russian drawing room bric-a-brac, silhouetted against slides — and sometimes video — of city and country landscapes, and changing seasons. It produces nice touches, though the moving parts can distract from the performance.
But overall, in the end, for me, compared to what's come before, "Our Great Tchaikovsky" is not as successful as Felder's earlier composer shows.
For tickets to "Our Great Tchaikovsky" visit theatreworks.org, or call (650) 463-1960.
John Angell Grant is the Daily Post's theater critic. Email him at johnangellgrant@gmail.com.