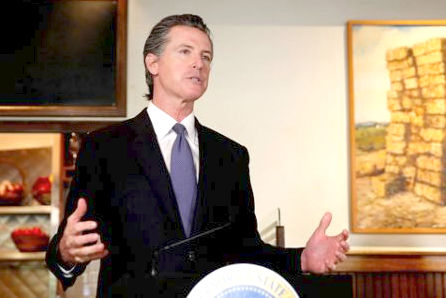 Gov. Gavin Newsom declared today that public and private schools in counties that are on his coronavirus "watch list" won't be reopening classrooms this fall but holding school via distance learning.
Santa Clara County is on the watch list. San Mateo County has recorded more than 100 cases per 100,000 residents in the past 14 days, which will put it on the watch list soon.
The governor's strict new regulations marked a dramatic shift from his earlier position that it was up to local school boards to decide when and how to reopen. (Here's the governor's new guidance.)
His announcement comes just weeks before many of the state's 1,000 school districts return to classes in mid-August, with many still finalizing their reopening plans.
The California Teachers Association union, which contributed $1,157,484 to Newsom's election campaign, has been lobbying hard for distance learning, saying their members would be put at risk if classrooms reopened.
Newsom, however, stressed that his decisions are based on "science" and "data," not politics.
In Palo Alto, the question of how to reopen the schools has been controversial. About 400 teachers signed an open letter to the school board urging distance learning this fall. But a school district poll of 3,476 parents in June found that three quarters wanted in-person schooling with social distancing instead of online learning.
Palo Alto's July 3 plan
On July 3, the Palo Alto school board approved a plan to have high school and middle school students learn from home this fall and a reduced amount of classroom instruction for elementary pupils. But the board abandoned last spring's pass/fail experiment and will return to letter grades.
Under Palo Alto's plan, elementary school students were to be at school for half the week while middle and high school students will mostly learn from home.
That plan, approved July 3, said parents of elementary school kids could choose to keep their kids home if they want. Kids who do go to school would rotate with half the kids going Monday, Tuesday and part of Wednesday and the other half going Thursday, Friday and part of Wednesday.
Palo Alto school Superintendent Don Austin sent a letter (see below) to employees and parents saying the district will open on Aug. 17 using distance learning in all grades.
Singing allowed outdoors
The governor's guidance allows students to sing, as long as it is outdoors (page 12). Previously, Santa Clara County Health Officer Dr. Sara Cody had banned choir, cheerleading and band.
The guidance doesn't say anything about whether sports such as football can continue this fall. Cody's advice earlier seemed to preclude football though it didn't specifically prohibit it.
Big districts opt for distance learning
Several school districts have already said their schools will begin the new term virtually, including Los Angeles and San Diego, the state's two largest with a combined population of 720,000 K-12 students. San Francisco, Oakland, Sacramento, Long Beach, Santa Ana and San Bernardino are among the other districts opting not to immediately return to classrooms.
State officials have placed at least 31 of the state's 58 counties on a watch list because of concerning coronavirus transmission and hospitalization rates. Being on the list puts restrictions on the ability to reopen various segments of the economy.
If those counties are still on the watch list when the new term begins, the guidance means that most California schools would not be reopening classrooms but holding school via distance learning.
The guidance lays out in detail when classrooms and schools would have to close if there is an outbreak. If a student or educator test positive for the virus, a classroom would have to close and the students and teacher would quarantine for 14 days. An entire school should revert to distance learning if it reports multiple cases, or 5% of students and staff test positive within a 14-day period. — From staff and wire reports
Palo Alto superintendent's letter to parents and employees
Dear PAUSD,
Under Board Policy 2210, and as a school district within a county currently on the "watch list," PAUSD will open on Aug. 17 in distance learning for the elementary, middle, and high school levels. Thank you for your patience as PAUSD appropriately paused reopening plans for a brief period of time. The pause allowed time to monitor conditions, receive additional feedback, and calibrate with our neighbors. Gov. Newsom just delivered awaited school reopening guidance in connection with COVID19 current trends and affirmed our decision.
The choice to begin instruction through distance learning was difficult and contrasted our desire to work directly with our students with the reality of a national pandemic. We expected a three-week closure in March, which morphed into an extended departure of normalcy beyond any initial projections. We agree with many who expect a different level of preparation and outcomes for the fall. Some examples of action taken to dramatically improve the distance learning experience for all include:
Comprehensive professional development for all teachers covering multiple aspects of instructional delivery (already underway).
Daily structured schedules to avoid conflicts and provide predictability.
Daily synchronous contact between students and instructors.
Assignment of grades and routine feedback.
District adoption of Seesaw Student Engagement System for elementary schools.
Supplemental District licenses for Lexia reading instruction, DreamBox math lessons, Kaltura video repository system, and Zoom professional version with all available features.
Teacher's College recorded mini-lessons in math and reading.
Explore Teacher Learning Centers (quiet places for all students) to learn.
Meal distributions will continue.
Expansion of FEV (

Flexible Learning Highlights

) Tutoring synchronous academic support.
Routine surveys of parents and students to provide implementation feedback.
PAUSD+ will be in place, in compliance with county health orders, for struggling students grades 6-12 in need of in-person assistance.
As permitted, child care options will be available for families through third-party providers on our elementary campuses.
Health and safety upgrades to our facilities will continue throughout the closure in expectation for a physical return.
Thank you to those of you who completed the elementary school registration survey.  This information will be retained and will guide us when we can open in the future. No further action is required at this point. Distance learning options will be available when schools physically reopen.
On behalf of our Board of Education, I would like to thank everyone during this confusing and frustrating time. Belief in the best intentions of others is appreciated and reciprocated.
Sincerely,
Donald B. Austin, Ed.D.
Superintendent of Schools
Updates available @ www.pausd.org