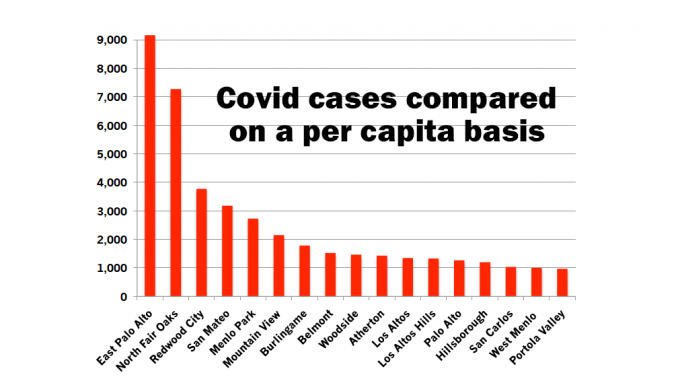 BY EMILY MIBACH
Daily Post Staff Writer
San Mateo County officials are not releasing information about how many people have died due to Covid in each city and officials in East Palo Alto, the city with the highest amount of cases per capita, want that information.
During a City Council meeting where county and Ravenswood Family Health Clinic officials answered questions about Covid in the city, Administrative Services Director Marie McKenzie made an appeal to county officials about the city's desire for death information.
"We are not asking for names. We want information to help us better understand what we are facing in this community," McKenzie said.
McKenzie, along with management analyst Michelle Daher have been spearheading the city's response to Covid.
"We are not trying to scare people (with the information), but use it as an example. When we don't know that information, it affects us as a community in a negative way," McKenzie said.
McKenzie spoke after County Health Chief of Vaccination Dr. Anand Chabra answered a question from a resident about death data.
Keeping it secret
Chabra said the information is not being released because of confidentiality reasons. Chabra said that if for example only three people had died of Covid, then people may be able to easily identify who it was.
While deaths are secret in San Mateo County, the county does release the number of Covid infections by city (see chart).
The Post has also asked the county for Covid deaths by city.
The county counsel's office told the Post that because of patient privacy concerns under the federal Health Insurance Portability and Accountability Act, or HIPAA, it could only release information about Covid deaths by "deidentified zip code." Meaning the last two digits of the zip code would be removed.
The state regularly posts information tracking how many cases and deaths have occurred in the skilled nursing homes across the state. The data the Post received was related to deaths as of Jan. 14, where 294 people in the county had died. Of them, 15, or 5%, were from zip codes starting with 943. The only community in San Mateo County that uses the 943 prefixes is East Palo Alto.
Highest rate of cases
East Palo Also has the highest rate of Covid cases per capita of any city in San Mateo County. 1 in 6 East Palo Alto residents, including children, have gotten Covid.
Meanwhile, only 12.5% of the city's 30,499 residents have been vaccinated, according to county data.
The council meeting occurred the same day that the county announced it will be hosting weekly vaccine clinics in the city. The first vaccination drive will occur at the YMCA on Tuesday. Only East Palo Alto residents who make appointments will be able to get one of the 400 or so shots available.
There will also be a vaccine drive in Menlo Park's Belle Haven neighborhood on March 13 at the Onetta Harris Center, according to the Ravenswood Family Health Center.
After next week, the clinics will be every Saturday, according to the health center. The clinics may move around town each week. Councilwoman Lisa Gauthier suggested that a clinic be held at University Circle, where the Four Seasons is, for residents who live west of Highway 101.
Clinics may move
Vice Mayor Ruben Abrica suggested that someone rent the former Office Depot space at the Ravenswood Shopping Center and have vaccine clinics there, since the shopping center is a central spot in the city.
On Wednesday, the state announced it would have a new priority list for vaccine distribution, where 40% of the state's vaccines will go to the areas hardest hit by Covid.
No areas in San Mateo or Santa Clara counties were included.
According to the San Francisco Chronicle, 10 Bay Area zip codes are on the list, while 79 Los Angeles area zip codes appear on the new list.