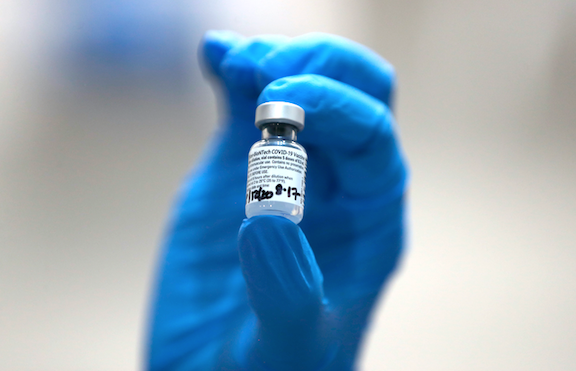 BY EMILY MIBACH
Daily Post Staff Writer
The San Mateo County Police Chiefs and Sheriff Association is asking the county's public health department to step up its Covid vaccinations of police while half of the sheriff's deputies in neighboring Santa Clara County have reportedly refused to get a shot.
On Friday, the association — which represents the San Mateo County's police departments, sheriff's office, employees in the District Attorney's Office, Coroner's Office, Probation Department and BART police — sent a letter to county Health System Chief Louise Rodgers asking her to prioritize their officers for vaccines.
Police are in tier 1B of the state's vaccination plan, which also includes food and agricultural workers, education and child care employees and other emergency service workers. But some first responders, such as paramedics, have been vaccinated already as they fall under health care workers.
"As with other first responders included in Tier 1A, law enforcement is a human services profession and personnel in our organizations are an essential part of providing emergency first responder medical care to the public," which includes performing CPR, administering NARCAN, apply tourniquets and using defibrillators, says the letter, signed by the association's president and Pacifica Police Chief Daniel Steidle.
Steidle acknowledges that the medical care that police provide is not considered invasive to patients, it still requires officers to be close to the people they are interacting with, who are often elderly, immune-compromised, or otherwise high-risk people susceptible to getting Covid.
In the past year, police across the county have had 163 employees test positive for Covid and over 500 have had to quarantine, Steidle wrote.
According to his letter, there have been two times when police departments have to backfill their departments with sheriff's deputies because too many of the unnamed department's officers were quarantining.
Meanwhile in Santa Clara County, just about half of the county's sheriff's officers have declined to take the vaccine, according to a report by the Mercury News that came out the same day as Steidle's letter.
Of the Santa Clara County Sheriff's roughly 1,800 employees, 861 employees have received both doses of the vaccine, while nearly 800 have decided not to get the shot. Another 200 or so don't qualify to get the vaccine yet.
ᐧ