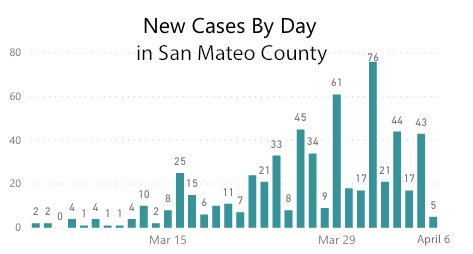 By the Daily Post staff
Neither San Mateo or Santa Clara counties is seeing a surge in new COVID-19 cases, according to figures put out by each county.
In Santa Clara County, the number of new cases each day in the past week has ranged from 54 to 75, with one day where there were only 17. The number of new cases has remained about the same each day despite an increase in testing.
In San Mateo County, the number of daily new cases has ranged from 17 to 76, with one day when there were only 5.
The surge of new cases that health officials were warning about hasn't occurred yet.
Gov. Gavin Newsom said today that Californians' efforts to stay home and limit physical contact are flattening the coronavirus infection curve, according to the Sacramento Bee. But he said that flattening the curve means the peak of infection will be pushed further into the future.
Newsom said the delay is buying the state time to add hospital beds and purchase more personal protective equipment to shield health care workers from the virus.
The pandemic is accelerating elsewhere in the United States, which has reported nearly 360,000 cases and 10,00 deaths.
Over the weekend, President Trump and Surgeon General Jerome Adams warned Americans that this week would be the worst when it comes to COVID-19 deaths. Adams said the death toll would compare to 9/11 and Pearl Harbor.
Locally, Santa Clara County reported another COVID-19 death today, raising the total for the county to 43. Of those deaths, 32 — or three quarters — were of people 61 or older.
Also, 79% of those who died had additional causes of death besides COVID-19.
In San Mateo County, eight more deaths were reported today, bringing the county's total to 21, though officials said not all of those new deaths happened in the last 24 hours. Because of reporting issues, some had happened previously.
In San Mateo County, 17 of the 21 deaths were of people 71 or older.
Overall, 15,865 people in California have tested positive for the coronavirus and 374 have died.