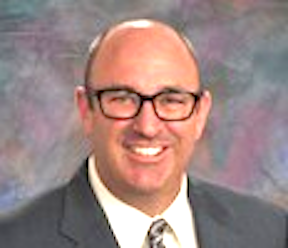 By the Daily Post staff
The Palo Alto school board announced this morning (May 7) that it has offered the job of superintendent to Don Austin, currently superintendent of the Palos Verdes Peninsula Unified School District in Los Angeles County.
Austin has been superintendent of the 11,900-student Palos Verdes district since August 2014.
The Palos Verdes and Palo Alto districts are similar in several respects. Each is a K-12 unified school district with high test scores serving an affluent community. Both districts have two high schools, though Palos Verdes also has a continuation school. Each district has three middle schools. And Palo Alto has 12 elementary schools while Palos Verdes has 10.
"The school district's reputation for having a high quality education system attracts many families to this suburban area and its schools," the Palos Verdes school district's website says. The same statement could be said by the Palo Alto schools.
Before becoming superintendent in Palos Verdes, Austin was assistant superintendent of educational services in the Huntington Beach Union High School District. He's also served as principal of Laguna Beach High School in Laguna Beach and La Sierra High School in Riverside. His LinkedIn profile says that he started his career as a classroom teacher.
Austin grew up south of San Diego in Chula Vista. A California native, he was the first member of his family to attend college. He holds a master of arts and a doctorate in education from Azusa Pacific University and a bachelor's degree from Baker University in Baldwin City, Kan. He also played football at Baker.
Here's Austin's bio from his current district's website. And here's a story about him from the Los Angeles Times.
The head of the teachers union in Palos Verdes filed a complaint in 2016 over what she described as the aggressive and physically intimidating behavior of Austin, according to the Daily Breeze newspaper in Southern California.
The complaint was filed by Sandra Goins, executive director of the South Bay United Teachers, who said that Austin accused her of grandstanding during a meeting, and he said she liked to fight. He then suggested that the two of them "step outside," she wrote.
The Palos Verdes school board president at that time, Malcolm Sharp, told the Daily Breeze that Austin has a "stellar reputation" working with labor groups.
Karen Hendricks, who has been serving as interim Palo Alto superintendent after the resignation of Max McGee in September, decided not to be considered for the position of superintendent, and wishes to continue with the school district, according to a statement from school board President Ken Dauber. Hendricks was previously HR director.
Austin's contract will go to the school board for approval on May 22, according to Dauber's statement. If approved, Austin would start July 1.
Austin's salary was not disclosed in Dauber's statement.
Austin was paid $299,043 in 2016, according to Transparent California. With benefits, his compensation from the Palos Verdes district was $338.848.
The Palo Alto district was paying McGee $306,918 when he resigned in September. He also got a $1,458,888 home loan from the district.