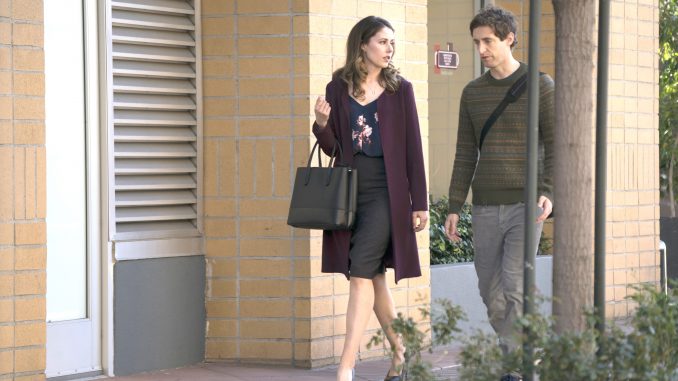 BY JAMIE MORROW
Daily Post Associate Editor
Perhaps those who idealize Bitcoin and other cryptocurrencies are the ones most destined to lose money on them. The takeaway from last night's episode of "Silicon Valley" seems to be that you can have money or you can have autonomy — but it's hubris to expect both.
In last night's episode, the Pied Piper guys made their bet on crypto and its associated values … and lost big. The same plotline also severed the fraying partnership of Bream Hall VCs Laurie Bream (Suzanne Cryer) and Monica Hall (Amanda Crew), as Monica also tried to make a play for more autonomy and keep to a more high-minded business model.
The episode opens with Richard (Thomas Middleditch) and the Pied Piper guys celebrating as they're on the verge of inking a deal for Series B funding from Bream Hall. The money is enough to launch Richard's new decentralized internet, plus give their now numerous co-workers some hefty bonuses. But some reconsideration is spurred when it emerges that some Pied Piper computing credits Richard inadvertently let out into the wild ended up changing hands a few times before selling for an astonishing $1.6 million.
The Bitcoin craze
If that reminds you of Bitcoin's escalation, you're not alone. Gilfoyle (Martin Starr) becomes convinced that instead of giving up shares and two board seats to the VCs, Pied Piper should instead hold an ICO, or initial coin offering. It's the hot new thing; more than 200 were held in 2017, according to CNN. It works by a company essentially creating a new cryptocurrency and then selling it to investors in order to raise money.
Gilfoyle pitches Richard by pointing out how cryptocurrencies — decentralized, secure, anonymous and a threat to the established order — are a natural fit for Richard's vision of a new decentralized internet not beholden to ads, data harvesting and monolithic tech giants. Sure, Bitcoin may be a bubble, Gilfoyle says, but remember MySpace and Friendster? They died, but social media is here to stay. Well, cryptocurrency may be as well, but that doesn't mean every investor will make out.
ICOs vs. VCs
The episode presents ICOs as basically middle fingers pointed at VCs and the established VC process. In real life it's more nuanced, and many VCs are as interested as anyone else in this new mode of raising money. But the show did get right that VC oversight — and profit motive — is real. When Laurie tells Monica that Monica's unwritten promise to not make Pied Piper sell ads or harvest data on their new internet may or may not be kept, Monica jumps ship to help Richard with his ICO. It's a bust, netting thousands instead of millions of dollars.
Professing no hard feelings (indeed, no feelings at all), Laurie tells Monica that they should each work with companies that share their values. What does that mean? For Laurie, who works with other people's money, it seems to mean a fiduciary duty to that money and its growth. Her refusal to deal in values outside those is itself a value, an impersonal loyalty to numbers and contracts alone.
Final showdown next week
Last night's episode was the second to last this season and had a lot to do between trying to extract comedic value out of an ICO (meh) and working the plot to set up the final showdown likely to come next week between Richard and the Pied Piper guys and Jian-Yang (Jimmy O. Yang) and his new allies. Which, as the episode ends, now include Laurie. Is it better to have the ruthless (or should I say value-neutral?) profit shark as your overlord or your opposition? It'll be interesting to find out.
While the episode certainly used some pretty trendy buzzwords — cryptocurrency! ICOs! — much of the episode lacked the show's usual satirical bite. Though there was one notable scene in which Richard said he was coming to Monica for ICO advice as a friend, and Monica pointed out that they spend no non-work time together. It was a subtle dig at weird gender assumptions in the Valley.
Setback for Hooli
More savage were the scenes with Gavin Belson (Matt Ross), head of fictional tech giant Hooli. After suffering a humiliating setback that loses him his manufacturer in China, Gavin finds out that unionizations and new regulations have made Laos and Bangladesh too expensive. Desperate times call for desperate measures: So, North Carolina?
Gavin jets to the small town of Goldbriar, which had a DVR manufacturing plant close recently, to push the town to pay to revamp the factory to make his Box. When the mayor protests that he'd have to cut essential services to make it work, Gavin says he can't give a penny more, then walks off to his private jet. After all, says Gavin, all his billionaire friends routinely get NFL stadiums and corporate HQs fully paid for them.
Scene drawn from reality
The scene certainly echoes the reality that since 2007, Apple, Google and Facebook have all built data centers in small towns in North Carolina, where electricity and land are cheap and the state has proven willing to throw ever-increasing amounts of tax breaks those companies' way. More recently, Amazon's public hunt for an American city to host its second headquarters — and the billions in financial incentives offered by various cities — has been commanding a lot of attention.
Suffice to say, Gavin's hardball comes back to bite him and Hooli big-time, and it's satisfying.
Other notes:
• Of course, Laurie speaks Chinese.
• The opening scene, the celebration taking place at a restaurant, uses an exterior shot of downtown San Jose's Nemea, an upscale Greek restaurant. The scene contrasts VCs and the coders they oversee as Monica treats the guys to a $500 bottle of Champagne they all make faces over. Once she leaves, they immediately ditch the restaurant to go play Fortnite (a video game described by its maker as Minecraft meets Left 4 Dead.)
• Dinesh (Kumail Nanjiani) tries to secure top Tesla prestige in the office but fails to obtain Tesla's referral prize of Arachnid wheels.
• The "Make Goldbriar Great Again" signs are a nice touch.
Email Jamie Morrow at jmorrow@padailypost.com.
Here are her previous reviews for Season 5:
Episode 6 — Tale of two robots, one AI and the other a VC
Episode 5 — AI robot doesn't like her human creator
Episode 4 — Can you be a Christian in Silicon Valley?
Episode 3 — Richard's romance and a taste of Radical Candor
Episode 2 — Good coders aren't necessarily great leaders
Episode 1 — A slice of life in the Valley