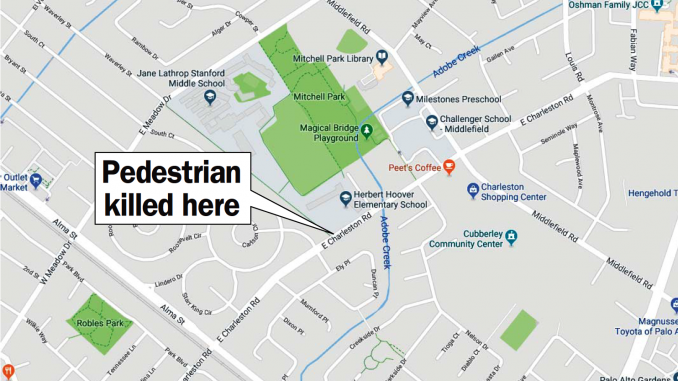 By the Daily Post staff
A woman in her 80s was struck and killed while crossing E. Charleston Road in Palo Alto last night (May 5), police said.
At 8:39 p.m., callers told police about the accident in the 400 block of E. Charleston, about 300 feet west of the Charleston Shopping Center.
Police and fire paramedics arrived right away but the woman was pronounced dead at the scene.
Police said that their preliminary investigation showed that the victim had been attempting to cross Charleston in a northbound direction. She was not in a crosswalk.
A westbound red 1985 Toyota pickup truck, driven by a Palo Alto woman in her 20s, hit the woman. The driver remained at the scene and cooperated with police. She wasn't injured.
Police said they don't believe drugs or alcohol were a factor in the collision. The driver hasn't been cited or arrested pending the outcome of the investigation.
The victim's identity has not been released.