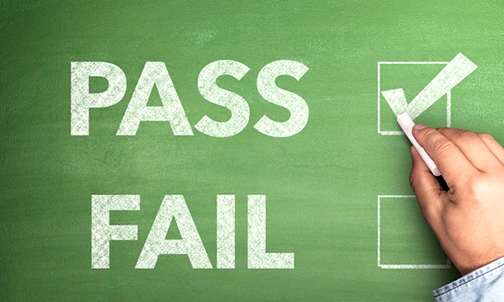 BY EMILY MIBACH
Daily Post Staff Writer
It looks like the decision to switch to pass/fail grades in the Sequoia Union High School District is final despite the efforts of Trustee Carrie Du Bois, who was unsuccessful in convincing her colleagues to reconsider their decision.
"I feel like we are robbing kids of their grades," Du Bois said during the school board's April 29 meeting.
Two weeks earlier, the board debated for four hours before deciding in a 3-2 vote to switch from traditional A-F grades to pass/fail now that classes are being taught remotely during the coronavirus stay-at-home order. The nay votes came from Du Bois and Allen Weiner.
On April 29, Du Bois wanted the board to consider letting students choose between pass/fail and what's called "hold harmless," where a student's letter grade can only go up. For instance, if a student is getting a C in English and they don't turn in an essay, their grade will not drop to a D, but if they turn in a good essay, their grade could raise to a B.
Assistant Superintendent Bonnie Hansen pointed out that the board did have the option to give students the choice of how they were graded, but the board wasn't interested in that option.
Letting students choose
Since the board decided two weeks ago to go to pass/fail, other school districts, including the Los Gatos-Saratoga Union High School District, have decided to let students pick if they want letter grades or pass/fail. Because other districts have picked to let students decide how they're graded, Du Bois wanted to discuss the issue again.
The rest of the board did not seem eager to relitigate the April 15 discussion, where some 470 people had logged into Zoom to watch the meeting at one point.
Board member Chris Thomsen, who voted for pass/fail, said he would have been sympathetic if a board member who had been on his side of the vote felt that they had learned something that made them want to switch their vote.
Too late to change, union leader says
Teachers union President Edith Salvatore said that while all of the teachers didn't agree that pass/fail was the best option for students, with five weeks left in the school year, now is not the time to take up the issue of grading again.
Two common arguments for grading on a pass/fail scale while students are learning from home include that they are not able to learn as much as they would in a classroom setting, while others say some students have to take on extra responsibilities at home, such as extra shifts at their jobs since their parents have been laid off, or have to watch their siblings.
"Grades are not the most important thing this semester," a speaker only identified as D Nguyen said at the April 15 meeting in favor of pass/fail. "This is not a typical semester and we must thoroughly consider a non-typical grading system."
Those in favor of letter grades argue that pass/fail doesn't allow students to show a college what kind of work they are capable of doing. And they say that since so much has already been taken away from students during this time, grades are all some have left.
One student at the March 15 meeting said that the pass/fail option "caters to students who would rather not do the work."
The decision came after the board heard multiple comments at both its April 15 and April 6 meetings, and had received hundreds of emails from students, parents and teachers. The district also had an online survey for people to weigh in on the issue, and 810 people had responded.
One of the options on the survey was to let students decide if they wanted a letter grade or not, but ultimately at the April 15 meeting, Superintendent Mary Streshly opted to have the board decide between hold harmless and pass/fail.
Some 30 miles away, at the Los Gatos-Saratoga Union High School District, Superintendent Mike Grove was also getting a lot of feedback from students, teachers and parents on the grading issue. He even created an advisory board to review different proposals for how the students in his school district ought to be graded.
Grove also sent out multiple online surveys for the district community to respond to, and ultimately last Friday, Grove announced that students will be able to choose between pass/fail and getting letter grades for this semester.
Grove said that most of the feedback he has received supported the idea of allowing students to choose.
Petition drive in Palo Alto
Meanwhile, Palo Alto Unified School District's superintendent Don Austin announced on March 25 that grades for high school students will be changed to pass/fail for the rest of the school year.
Since then, Austin and the school board have heard from parents and students who are upset for two reasons — one, the switch to pass/fail and two, because the board never voted on the new policy.
Steve Toteda, who helped start a petition with over 500 signatures of people against the pass/fail policy, said at the board's April 22 meeting, that the school board has a responsibility to make decisions on the record rather than having the superintendent make major changes unilaterally.
Toteda is just one of many people who have weighed in on the decision after it has been made.
According to Austin's March 25 memo, he heard from school principals, teachers, district administration and spoke with university officials and other superintendents in the county.