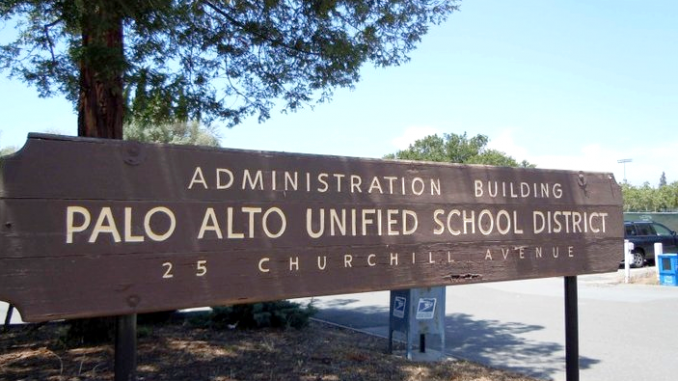 BY ALLISON LEVITSKY
Daily Post Staff Writer
The Palo Alto school board Tuesday (May 28) is set to consider increasing salaries for top administrators by between $17,900 and $62,000 per year on new contracts that wouldn't offer stipends for car allowances, advanced degrees or cellphones.
In a brief report on the school board agenda, Superintendent Don Austin says that the board expressed a desire to create "executive cabinet" contracts that are separate from negotiations with represented bargaining units.
Under the proposal to change the salaries for the fiscal year beginning July 1, the deputy superintendent — a position that was created for Karen Hendricks last year — would make between $240,000 and $270,122 in a range of five salary "steps."
Hendricks' new salary is being proposed as $247,200, up from $240,000. She was paid $223,884 as interim superintendent last year, before Austin was hired.
The chief business officer would make between $240,000 and $270,122 per year, up from a range of between $188,481 and $208,048.
Each of the assistant superintendents would make between $206,400 and $232,305 per year, up from a range of between $188,481 and $208,048.
That would apply to Chief Academic Officer Anne Brown, Chief Academic Officer Sharon Ofek and Assistant Superintendent of Strategic Initiatives Yolanda Conaway. The board is also being asked to approve new employment contracts with Conaway for $212,592, Brown for $218,969 and Ofek for $225,538.
The existing salary schedule lists a salary range of $190,407 to $210,173 for "associate superintendent," a position that isn't currently filled and doesn't appear on the salary list being proposed Tuesday.
Under the existing salary schedule, all of those administrators get salary increases for graduate degrees: $2,496 for each master's degree and $2,496 for a doctorate.
The current salary schedule also gives those administrators a $3,244 raise every three to five years once they've reached Step 5, the top end of the base salary range.
The proposed schedule would do away with those increases, which Austin says is an effort to comply with State Teachers Retirement System guidelines and to better align with the Association of California School Administrators.
The board is also set to vote on giving a 2% raise and 2% bonus to Ofek and 2% bonuses to Brown, Novak, Conaway and Hendricks.
Under the employment contract that Ofek signed in June 2016, she is entitled to the same raises as the Palo Alto teachers union.
At the same meeting, the board will be asked to approve the hiring of a chief business officer to replace Novak and new principals for Palo Verde and Duveneck elementary schools.
Carolyn Chow is being floated as the new chief business officer at a $240,000 annual salary.
Chow comes to Palo Alto from the San Mateo-Foster City School District, where she has served as chief business official since 2016, according to her LinkedIn profile.
Before that, she held the same role at the Las Lomitas Elementary School District in Menlo Park, where she worked from 2007 to 2016.
Chow holds a bachelor's degree in agricultural business and management from Cal Poly San Luis Obispo, according to LinkedIn.
Annora Lee is being proposed as the new principal of Palo Verde, replacing Hillary Miller.
Lee currently splits her time as assistant principal at Ohlone and Escondido elementary schools.
Before coming to Palo Alto, Lee taught in the Evergreen School District in San Jose for 14 years. She holds bachelor's degrees in liberal studies and economics and master's degrees in interdisciplinary education and educational administration from Santa Clara University.
The proposed principal of Duveneck is Leslie Crane, who is currently the principal of Clifford School in the Redwood City School District. She previously served as the director of human resources in that district.
Crane replaces Chris Grierson.