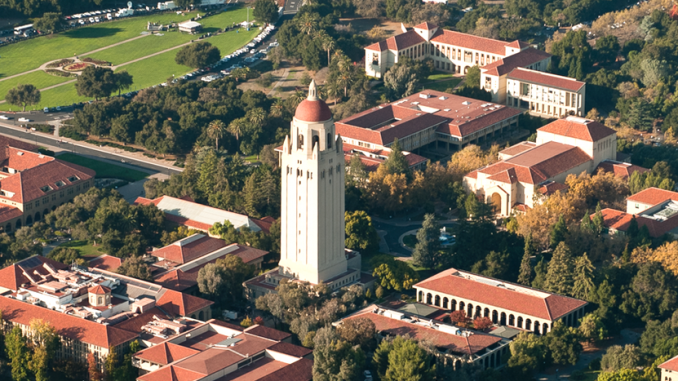 BY ALLISON LEVITSKY
Daily Post Staff Writer
The Palo Alto school district is pressing Stanford to open a third elementary school on campus as the university moves toward expanding by 2.3 million square feet, bringing 9,600 new faculty, employees and graduate students to campus.
The school board has drafted 11 pages of comments in response to Stanford's 2018 General Use Permit, or GUP, application, calling for a new school in the northeast area of campus as well as a commitment from Stanford not to seek property tax exemptions for the 550 new faculty and employee homes it's proposing to build.
In addition to the 550 homes for faculty and employees, Stanford plans to build student housing with 1,700 beds for undergraduates and 900 beds for graduate students. "If you bring that many kids without the additional property taxes to go with them, it puts pressure on the district to increase class sizes," school board member Melissa Baten Caswell told the Post. "We don't need the caliber of our schools to be degraded in any way by adding more kids."
Property tax exemption
Mayfield Place, a 70-unit affordable housing complex that Stanford built this year at 2500 El Camino Real, was assessed at $43.3 million. According to the school district, Stanford applied for a below-market-rate housing tax exemption, leading the property to be taxed on a net assessment of $3.1 million, leaving $13,787 in revenue for the school district.
That works out to $405 per student, hardly enough to cover the $18,000 the district spends per student.
The school board has also taken the position that Stanford is underestimating the number of K-12 students who will live in each of the 550 homes Stanford plans to build.
The draft environmental impact report on the GUP assumes an average of 0.5 K-12 students per unit.
Number of students in dispute
Stanford developed a student generation rate of 0.38 using two older housing developments, one of which only had one student.
Olmsted Terrace, a development of 39 single-family homes for Stanford faculty that opened in 2010, has 0.82 students per house, according to the school district.
Mayfield has 0.48 students per apartment.
The school district recommended Stanford plan for the midpoint between Olmsted and Mayfield, 0.65 students per home, because Stanford hasn't said whether they will build single-family homes or apartments.
The 0.65 number results in about 358 new K-12 students in the new Stanford housing, which will have a disproportionate impact on the district's elementary schools, Caswell said.
The two elementary schools on Stanford's campus are Escondido Elementary, at 890 Escondido Road, and Lucille M. Nixon Elementary, at 1711 Stanford Ave.
Escondido, which mostly serves the children of grad students, is one of two elementary schools in the district that have more than 500 students. Nixon has 440.
If the two elementary schools at Stanford can't absorb all of the new students, they could go elsewhere in the district. But that would involve more car commute trips across town.
Walking to school
About 55% of students in the district walk or bike to school. One of the most desirable aspects of the district is that its schools are located close to the students who attend them, Caswell said.
"We're very proud of our schools, not just for serving kids well in the classroom, but also being neighborhood schools that become community fulcrums of their own," Caswell told the Post, acknowledging the benefit that Palo Alto and the district gain from being next to Stanford. "I think from Stanford's perspective, they treat our schools as a benefit that their employees, their faculty and graduate students get to take advantage of as part of being at Stanford."