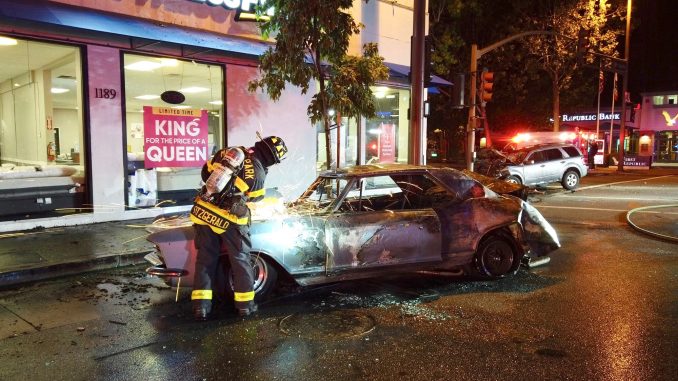 By the Daily Post staff
Police said they arrested a man for felony DUI following a fiery crash early this morning (May 26) at El Camino Real and Oak Grove Avenue in Menlo Park that sent five people to the hospital.
Arrested was Luke Quinton, 25, of Menlo Park.
It happened at 12:29 a.m. when Quinton's small SUV collided with a 1965 Buick Riviera carrying four people, two men and two young women.
The SUV punctured the Riviera's fuel tank, causing a fire to erupt, according to the Menlo Park Fire Protection District.
The SUV went on to hit a stoplight pole.
The burning Riviera traveled about 100 feet south and stopped in front of the Mattress Firm store, with the four occupants trapped inside.
The four attempted to escape from the burning vehicle, but the doors would not open because they had been jammed shut by the collision, according to fire officials.
"The four were trapped inside of the vehicle as it started to fill with smoke," said Fire Chief Harold Schapelhouman. "After tremendous effort, which included pounding and kicking on the driver's side door, the four were able to escape the burning and severely damaged vehicle, and not a moment to soon before the interior of the vehicle also caught on fire."
Firefighter paramedics treated the four occupants. All complained of smoke inhalation and two sustained second-degree burns and impact related body injuries. Both were rushed to Stanford Hospital by ambulance. The other two victims decided to drive with someone else to the hospital.
Quinton, the SUV driver, was also taken to the hospital.
Meanwhile, firefighters extinguished the burning street and vehicle fire.
"It looked like a scene in the movie 'Back to Future' with ribbons of fire in the street trailing behind the vehicle," said Fire Capt. Seth Johnson.
"This was a terrible vehicle accident that could have easily turned tragic if the four occupants of the Buick were unable to escape the vehicle or if it had ended up inside one of the commercial buildings that border El Camino Real, catching it on Fire," Chief Schapelhouman said. "Fortunately, that did not occur and all five individuals should survive this event."