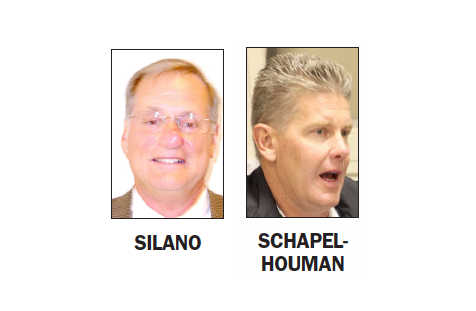 BY EMILY MIBACH
Daily Post Staff Writer
In the months leading up to his retirement, Menlo Park Fire District Chief Harold Schapelhouman says he was hated by one of the district's elected board members, emails obtained by the Post from the fire district show.
Schapelhouman retired on June 30 after 40 years with the fire district that serves Menlo Park, East Palo Alto, Atherton and North Fair Oaks.
In a May 15 email from Schapelhouman to Board President Jim McLaughlin regarding his retirement,  Schapelhouman mentions an email from board member Rob Silano, calling it "ridiculous."
"I'm not looking for a fight, but I'm also not a doormat. His undermining has sunk to new levels as it's now reported to me by one of my captains that Rob told him that he 'hates me,' and the list of slights, nasty comments and his own unacceptable behaviors goes on."
The email was released to the Post through a California Public Records Request. The Post had asked the district for emails between the chief and board regarding Schapelhouman's departure from May 1 to May 19.
Schapelhouman, who typically responded to public records requests himself while chief, turned over the emails on June 30, his last day at the district. In his email to the Post, Schapelhouman said he would not be commenting.
However, Silano's email was not released to the Post. Schapelhouman in his response to the PRA said there were four emails that met the Post's request but one would not be released because of attorney-client privilege.
When asked by the Post yesterday what he sent to Schapelhouman, Silano said he could not recall.
Silano also said if he hated Schapelhouman, why did he alert the area's state and federal lawmakers to Schapelhouman's retirement so they could recognize Schapelhouman's long and storied career.
"I wish him a lot of luck," Silano said. "He has tremendous talent."
'The trust appears to be gone'
As the Post previously reported, Schapelhouman had offered to stay on after his contract expired on June 30 until a new chief is hired, likely sometime in the early fall. But instead, the board turned down his offer and selected an interim chief, Mike Shaffer, who was Schapelhouman's chief deputy.
Shaffer wasn't the board's first choice to be interim chief, the emails show. Retired deputy chief and US&R task force leader Jim Stevens turned down the interim job.
Schapelhouman was willing to serve past his announced retirement date of June 30 until a new permanent chief could be hired, but the board turned him down.
In Schapelhouman's email to McLaughlin, he says it's "unfortunate that the trust appears to be gone," in terms of him and the board.
In a response, McLaughlin said the board's decision to have an interim chief is a "business decision" and is "based on what the board believes to be in the best interests of the district rather than any trust issues."
"What percentage of your people have only known you as their commanding officer? Half, two-thirds? More? Any transition at the end of your tenure was always going to be challenging given your long distinguished service as chief. Your departure creates a vacuum others will have to work hard to fill," McLaughlin wrote in his response to Schapelhouman.
"From my own experience, I view change of command like a relay race; I have run my leg of the race, given it my all, and now its time to pass the baton to the next runner who will do the same. You have been the 'The Man in the Arena,' as described by Teddy Roosevelt, for a long time, much longer than most who occupy similar positions. As for your critics, I offer what I was told under similar circumstances many years ago, 'the eagle does not catch flies,' or Aquila Non Capit Muscas. Your many accomplishments will continue to speak loudly long after your critics' chatter fades away."
Finding a new chief
McLaughlin and board member Virginia Chang Kiraly are working with recruiter Teri Black on a nanationwide search for the next fire chief, which according to a recruitment pamphlet from Black, will have finalists selected this month.
The next chief will run the district, which has 148 full-time employees and a budget of $60 million. According to the brochure, the board is looking for someone who has a reputation for "embracing new tools and approaches that enhance performance and advance organizational goals."
Schapelhouman during his 15 years as chief introduced one of the first drone programs, and worked on various campaigns over the years, including to get burglar bars removed from buildings. He also worked on a campaign to prevent firefighters responding to emergencies from getting tickets when crossing bridges over the Bay.