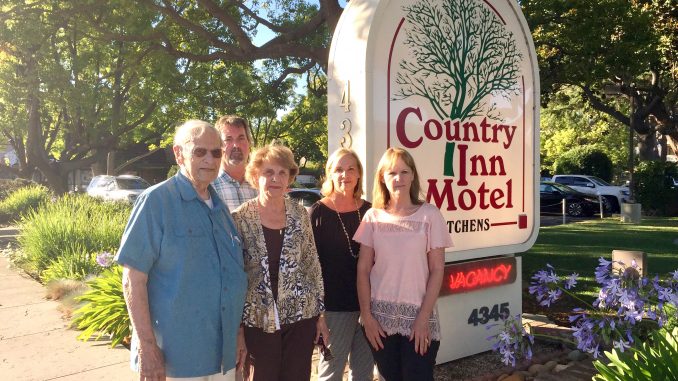 BY ALLISON LEVITSKY
Daily Post Staff Writer
A second Palo Alto motel in two months has been hit with a lawsuit by Scott Johnson, a quadriplegic attorney who has sued hundreds of California businesses over disability access violations.
In his lawsuits, Johnson cites state civil rights law and the federal Americans with Disabilities Act or ADA.
Johnson filed the suit against the Country Inn Motel in April, claiming that a lemon tree illegally encroached into the motel's parking access aisle for wheelchair-accessible vans, the motel's handicap parking signs didn't include the phrase "Minimum Fine $250" and its wheelchair-accessible rooms had a pullout couch rather than a second bed.
Linda Maher, 63, of Los Altos, has run the motel for 30 years with her siblings, Jim Gretz, Laurie Tinker and Julie Macey.
Their grandparents built the motel in 1953 at 4345 El Camino Real and their mother, Rena Gretz and uncle Jim Cesano, own it. Maher said her family had already made access improvements after being hit with a similar lawsuit in 2005 by litigant Andi Millard, who Maher said "drove around and took a peek" to check for violations.
"We hung a new sign, we put in a ramp, but his damages were just absolutely ridiculous, what he was looking for," Maher said.
In the latest suit against the Country Inn, Johnson alleged that the motel website illegally requires those who need a wheelchair-accessible room to call to make a reservation rather than being able to reserve a room online.
In addition, he claimed that the pull-out ledge for wheelchair users to sign paperwork is noncompliant because it requires the user to reach his or her arms up to the counter to grab paperwork.
To remedy that would require a total remodel of the motel's office because the Cesanos can't cut into the granite counter, Maher said.
Attempts to reach Johnson for comment were unsuccessful.
Suit costs family thousands
The Cesanos' attorney, Cris Vaughan of the Placer County firm Vaughan and Associates, told them to expect to pay as much as $50,000 to settle the case.
That's on top of the $22,000 they've already paid to replace parking signs, repaint the parking lot, add a new wheelchair ramp, replace pullout couches with beds and hire Vaughan and a disability accessibility consultant.
Vaughan has told the Cesanos he's currently defending between 300 and 400 businesses against lawsuits filed by Johnson, Maher said.
Travelodge sued too
As the Post reported Tuesday, Johnson last month sued the Travelodge Motel, 2 miles up the road from the Country Inn, over similar violations.
In that suit, he claimed he had visited the motel 10 times between February 2017 and March 2018 and encountered the violations, which would entitle him to $40,000 in damages on top of attorney's fees.
California's Unruh Civil Rights Act, a 59-year-old anti-discrimination law, awards successful plaintiffs at least $4,000 per violation.
In the last year, Johnson has filed similar lawsuits against the Hotel Avante and Hotel Vue in Mountain View and Menlo Gas in Menlo Park. Other litigants have filed suits against Jeffrey's Hamburgers in Menlo Park and Charley Noodle and Grill in Los Altos.
Did he even go there?
Maher said Johnson didn't contact her family before filing suit and that she hadn't spoken with him. She also doubted that he had ever visited the motel. His name didn't appear in records of customers and she said she would have noticed and remembered a man in a wheelchair visiting the property repeatedly.
She added that the motel has a frequent customer who uses a wheelchair and has never complained about accessibility issues at the motel.