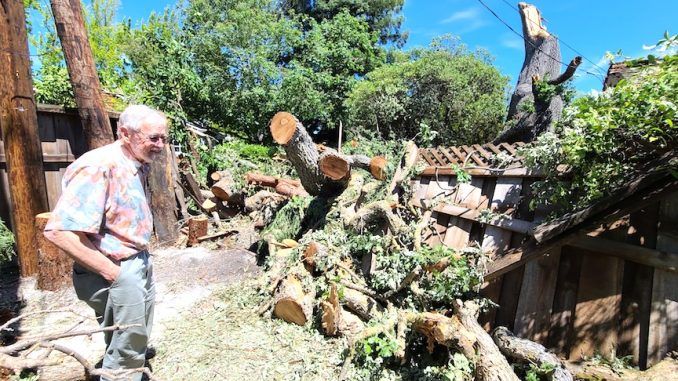 BY KYLE MARTIN
Daily Post Staff Writer
A 300-year-old tree, which sparked a controversy last year about whether a property owner could build a new two-story home on Webster Street in Palo Alto, has come crashing to the ground.
The Valley Oak tree, in the backyard of the home at 2353 Webster St., fell on Saturday (May 22) at about 6 a.m., said former City Councilman Jack Morton, who lives next door.
The home's owner, Yali Zhou, couldn't be reached for comment. She rents the home to another family.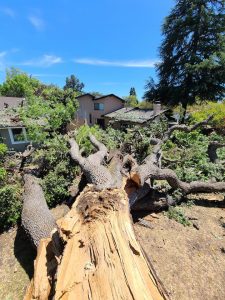 Morton said the tree was between 300 and 350 years old and was about 80 feet tall.
When it came down, it broke his fence and brought down the utility pole carrying power to his home and others. City workers restored power at about 10 a.m.
"It's a miracle no one was hurt," Morton said. "You can't put lives back together once you've damaged them."
Morton said the tree fell because Zhou failed to trim it, causing the canopy to overgrow.
Last year, Zhou asked the city for permission to replace the existing home with a two-story residence. Morton appealed a decision in Zhou's favor to the city council, and that led to a council hearing on Aug. 17, 2020 that extended past midnight.
At the hearing, Morton argued that the basement of the new home would harm the tree's roots.
In the end, council accepted a motion from then-Councilwoman Liz Kniss to reduce the depth of the basement to eight feet, instead of the 10 feet that had been proposed. In exchange, the house could be one foot taller.
But after that hearing, Zhou hasn't pulled permits to build the new house, according to Chief Planning Official Amy French.
Zhou's tenants, who did not wish to be interviewed, allowed the Post to photograph the damage, which shows the tree sprawled out through most of the home's backyard. But it appears there was no damage to the home itself.
Most of the damage was to Morton's fence. And firewood can be seen floating in another neighbor's pool
"It was a glorious tree," Morton said.