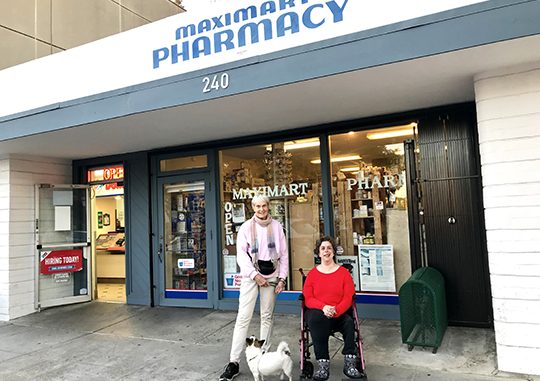 BY SARA TABIN
Daily Post Staff Writer
Maximart Pharmacy at 240 Cambridge Ave. is shutting its doors tomorrow after four decades of filling the prescriptions of Palo Altans.
Jack Morton, who spoke to the Post while waiting in line inside the store, said the pharmacy's closure feels like losing a neighbor because the business has been such an important part of patrons' lives. He said store employees made a real connection with patrons.
"(Owner Ben Kwong) didn't just give you a bottle of pills, he gave you something to make your life better," said Morton, a former councilman.
As Morton approached the pharmacy counter, Kwong emerged from the backroom and greeted him. Morton told Kwong that he is sorry to see the store close. Kwong said "it's time" and shook Morton's hand.
Kwong confirmed yesterday that he is closing the store, but was too busy to talk further.
Longtime customers sad
Joan Phelan was picking up a prescription with her daughter, Kim Phelan, 38, and their dog Max when she spoke with the Post. The pair said they have been going to Maximart for Kim Phelan's entire life.
Joan Phelan said Maximart has gotten her and her daughter through a lot of illnesses. She said the store workers always got her the medicine she needed quickly and with a happy face. And they were also nice to Max.
Phelan likened the loss of the pharmacy to the closure of the Prolific Oven, a well-loved bakery, earlier this year. She said she is sad to see another local business go.