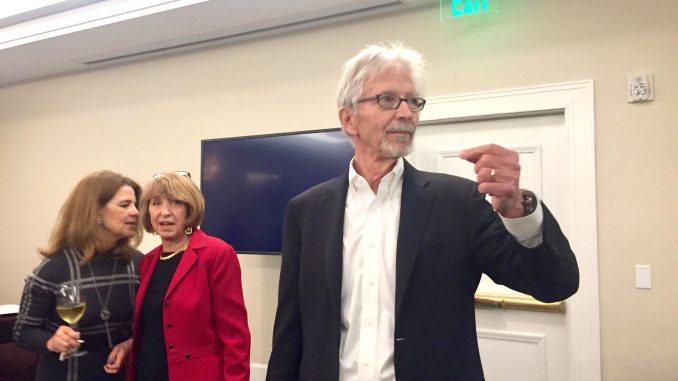 BY ALLISON LEVITSKY
Daily Post Staff Writer
After a decade as Palo Alto city manager, Jim Keene got a lively send-off into retirement at the Garden Court Hotel last night, paid for in part by the city.
City spokeswoman Claudia Keith declined to say how much public money was used, only referring to it as a "couple thousand dollars." City employees and council members also chipped in, Keith said.
The council has a contingency fund for such things.
"Like retirement parties for other long-term employees, such as (police) Chief Dennis Burns, a small amount has been allocated from council contingency, but the majority is from donations from staff and council members," Keith said in an email.
The four-star Garden Court donated its courtyard ballroom and guests paid for their own drinks at a cash bar, Keith said. The city will be paying for other costs, including programs and hors d'oeuvres.
Programs featured Keene's biography — "anti-war activist, farmer, city/county manager, photographer, guitar player, poet, writer, philosopher, Buddhist, runner" — and a list of his 38 years of government positions.
Keene, 67, managed Coconino County in Arizona from 1991 to 1996 before becoming Berkeley city manager from 1996 to 2000. He served as city manager of Tucson from 2000 to 2005.
Poetry
The back of the program featured a five-stanza poem by Keene called "On the Shore of Memory."
Gold-tinted coffee beans were strewn on the tables in lieu of flowers.
"Cheap decorations," Mayor Liz Kniss quipped. "We're chintzy."
Photos of a young Keene were shown on a slideshow on a TV.
"He looked better without the beard," Councilman Tom DuBois joked.
Kniss said she was disappointed that some council members didn't attend, attributing it to divided politics on council. She was pleased when Councilwoman Karen Holman, who tends to vote with the opposite faction from Kniss, arrived.
Attendees included former Mayor Betsy Bechtel and city employees from throughout City Hall, along with top brass from the police and fire departments. The architect Tony Carrasco and retired intellectual property attorney A.C. Johnston also paid their respects.
Former Mayor Sid Espinosa kicked off a round of speeches in Keene's honor, followed by Assistant City Manager Ed Shikada, who is set to take over for Keene as the new city manager.
While Espinosa and Keene didn't agree on everything — the streetlights on University Avenue could have been synchronized a little sooner, Espinosa said to laughter from Keene — the former mayor spoke to Keene's skill as a leader.
Colleagues speak
Then spoke former Mayor Larry Klein, former League of California Cities Executive Director Chris McKenzie, former Berkeley City Attorney Manuela Albuquerque, former Palo Alto CFO Lalo Perez.
Keene's son, daughter and granddaughters spoke, followed by Keene himself.
Keene is retiring Dec. 20. At his final performance evaluation on Tuesday, he turned down a raise after residents criticized him for being considered for one so close to retirement.
Kniss said she believes a council member leaked confidential information about the proposed raise last month, based on the content of critical letters the city received from residents up until Keene said he wouldn't accept a raise.
Had he accepted a raise to his $327,692 salary, it would have boosted his pension and would have been applied retroactively to July 1.