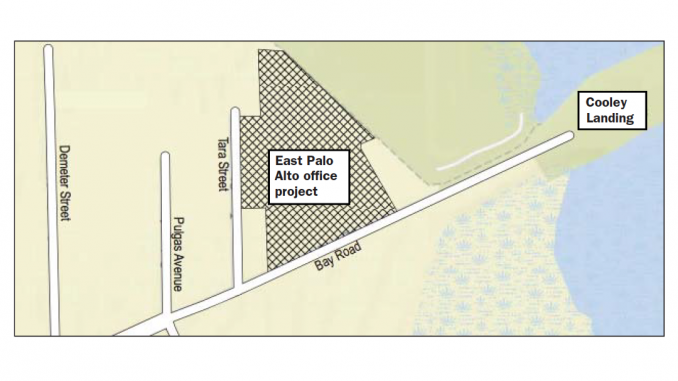 By the Daily Post staff
Visitors of Cooley Landing in East Palo Alto may eventually look back toward the city and see a gaggle of office buildings instead of the current empty lots along Bay Road.
A group called Three Cities Research, headed by J. William Uhrig, owns the land east of Tara Street in East Palo Alto that used to be the Romic Environmental Technologies facility, which managed and treated hazardous waste.
Three Cities Research has proposed to build five eight-story office buildings with 1.4 million square feet of office space and one parking garage, according to planning documents.
The parking garage would have be nine stories tall, with the roof containing a "high garden," according to planning documents. There would be 4,620 parking spaces.
Also included in one of the buildings would be about 3,500 square feet of retail space.
Because the site used to be where hazardous waste was treated, the Environmental Protection Agency and California Department of Toxic Substances must monitor the ground's remediation before anything can be built on it, according to planning documents.
The office buildings would also be neighbors of whatever Steve Jobs' widow, Laurene Powell Jobs, develops on a large swath of land her company Sycamore Real Estate, purchased earlier this year. It stretches from the ends of Pulgas Avenue and Tara Street to the end of Fordham Street, near the railroad tracks.