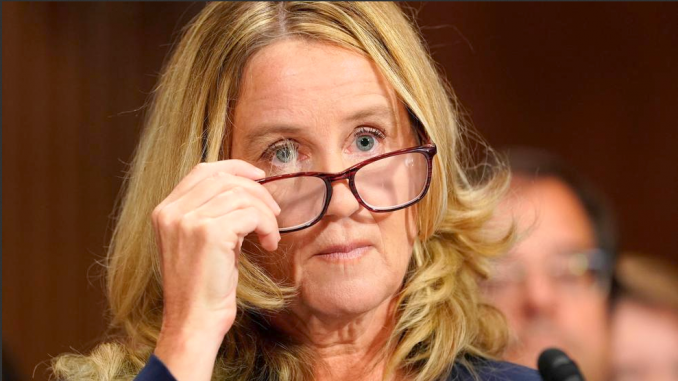 BY ALLISON LEVITSKY
Daily Post Staff Writer
Two online fundraising campaigns have raised a total of $738,462 to cover the security and other personal expenses being incurred by Christine Blasey Ford, the Palo Alto University professor accusing U.S. Supreme Court nominee Brett Kavanaugh of sexually assaulting her in high school.
One Ford supporter in Los Altos, raised $528,475 from 11,590 donors before ending the campaign last week.
A second, which Georgetown University law professor Heidi Li Feldman started on Sept. 18, two days after Ford's name emerged publicly, raised $209,985 in two days.
Feldman, who says she doesn't know Ford, was inspired to raise funds for the family's security expenses after hearing that they had been forced out of their home after receiving death threats.
"My immediate thought was, 'Wow, that's an expense that nobody plans for,'" Feldman told the Post. "I believe that when somebody is trying to legitimately participate in an important democratic process, they should be safe enough to participate without undue intimidation."
Ford testified before the Senate Judiciary Committee on Thursday (Sept. 27) that since her name emerged publicly on Sept. 16, she and her family had been "visiting in various secure locales, at times separated and at times together, with the help of security guards."
Feldman said she has been in touch with one of Ford's lawyers and one of her family members, who said Ford had already begun incurring security expenses.
When Feldman offered them financial help with the security detail, they said that "with great gratitude and humility, these resources would be welcome."
Feldman started with a goal of $10,000, then raised it to $50,000 as donations continued to pour in. She then did some casual online research about what private security might cost in the Bay Area, leading her to estimate that at $100 an hour for a single bodyguard, the Ford family could "quickly be spending $10,000 a week on security."
That's before accounting for the cost of temporary housing.
With that in mind, Feldman said she was "quite conservative in the amount of money I've raised."
Scholarship campaign
Still, Feldman decided to stop accepting donations soon after passing the $200,000 mark. But seeing that supporters were still eager to contribute, she launched another campaign on Thursday.
The new fundraiser will go toward a professorship or scholarship honoring Ford as an educator and has raised $27,116 from 733 people.
"I thought that she was providing an educational service to the country," Feldman said. "She was drawing upon her experience in educational and academic settings to be able to communicate very effectively about what had happened to her."
GoFundMe spokeswoman Katherine Cichy told the New York Times that the company had verified the authenticity of the campaigns and guaranteed the funds raised would be transferred directly to the Ford family.
The company contacts fundraisers' intended recipients directly to prevent scams and guarantees that it will refund donations in the case of campaign misuse.
'A ray of light'
Feldman said that while she has received some negative online feedback that she has mostly ignored — including being called a "George Soros money whore" in a Twitter message — she has mostly been heartened by the amount of support people are showing for Ford.
"I'm extraordinarily moved and heartened not only on Dr. Blasey Ford's behalf, but on behalf of all Americans, that people have wanted to donate both to keep Dr. Blasey physically safe and to honor her," Feldman said. "I'm extremely moved, and that has been a ray of light in a trying time."
Cichy said the funds could not be withdrawn or redirected to anyone but the Ford family and that with GoFundMe's help, the campaign organizers would coordinate with the Ford family to transfer the funds.
Palo Alto to recognize Ford
Local leaders have continued to express support for Ford. Palo Alto Mayor Liz Kniss announced a special order of the day at City Council last night honoring Ford's "act of bravery" in coming forward with the allegation against Kavanaugh.
"She told the world about what happened to her and set an example for all women and men," Kniss said, commending Ford for having "inspired others to defend themselves and speak openly about their own experience."