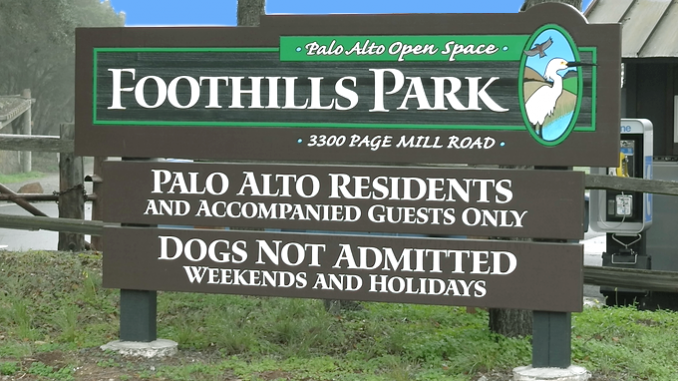 By the Daily Post staff
Palo Alto City Council on Tuesday (Jan. 19) will consider imposing entry fees at Foothills Park to reduce attendance and pay for upkeep.
The fees follow the council's decision to acquiesce to a civil suit to open the park to non-residents and a subsequent increase in people visiting the 1,400-acre park.
City Manager Ed Shikada is recommending fees between $6 and $10 that would apply to Palo Alto residents and non-residents.
The park opened to non-residents on Dec. 17 and "the number of visitors coming to the park has been significantly higher than in previous years," Shikada said in a memo to council.
He said that on Christmas, New Year's Day and several weekdays, the park reached its capacity of 750 people a number of times. During the weekend before Christmas, the city turned away 4,081 visitors – nearly six times higher than the same weekend in 2019, when there were 688 visitors.
He pointed out that when there's a large number of cars in the park, it's unsafe for pedestrians and bikers because the roads are too narrow. And he said more people are walking in natural areas where there shouldn't be people.
Shikada said 500 people and 175 cars in the park at any one time is manageable.
Shikada's memo included information about the charges at other parks:
• Santa Clara County Parks charge a $6 vehicle entry fee and have a $95 annual pass option
• San Mateo County Parks charge a $6 vehicle entrance fee and have a $60 annual pass option.
• California State Parks charge a $10 vehicle entrance fee and have a range of different annual pass options.
Shikada gave council a proposed ordinance that calls for a $6 daily fee, $50 resident annual pass and $65 non-resident annual pass.
A $6 fee would result in the city getting $350,000 a year while a $10 fee would result in a $500,000 gross.
To deal with higher demand to visit the park, the city last month closed the entrance on weekends and on holidays between 10 a.m. and 3 p.m.
Councilman Greg Tanaka, one of two on council to vote against opening the park to non-residents, told the Post he was "worried that something like this might happen."
Tanaka said residents have complained to him that the new visitors are flooding the streets near the park.
"I think that if we spent a little more time to make sure that we have resources in place, then probably we wouldn't have the problems we do now," Tanaka said. "It takes time. We could have given staff time to work things out."
"If there's a lot more people visiting, it takes a lot more money to do the maintenance," Tanaka said. And all that money has to come from somewhere."
Council opened the park to non-residents after the ACLU filed a lawsuit against Palo Alto on behalf of the NAACP of San Jose/Silicon Valley and 10 people alleging the ban violated the rights of freedom of movement, freedom of speech and freedom of assembly.
Previous stories about Foothills Park
Dec. 17, 2020 — Petition drive to keep park closed to residents fizzles out; city finalizes settlement of lawsuit
Dec. 16, 2020 — Guest opinion: Former mayor Le Levy says its time to turn the page on Foothills Park
Dec. 5, 2020 — Petition drive to force vote on opening Foothills Park needs 2,600 signatures
Nov. 27, 2020 — Couple start petition drive to put Foothills Park access to the voters
Nov. 2, 2020 — Council votes 5-2 to open Foothills Park to non-Palo Altans
Sept. 15, 2020 — ACLU sues Palo Alto over access to Foothills Park
Sept. 3, 2020 — Guest opinion: Opening Foothills Park will create problems
Aug. 4, 2020 — Foothills Park to open to non-residents on trial basis; residents to vote in 2022
Aug. 2, 2020 — Opinion: Nobody's been jailed for entering Foothills Park
June 24, 2020 — Parks and Rec commissioner quits in protest over delay in Foothills Park decision
June 19, 2020 — $6 fee for non-residents proposed for Foothills Park
June 8, 2020 — Letter: Community leaders push to open Foothills Park to all
Nov. 13, 2019 — Parks and Rec commission recommends pilot program to open Foothills Park to non-Palo Altans
July 25, 2019 — Commission to consider options for easing up on 'Palo Altans only' rule in Foothills Park