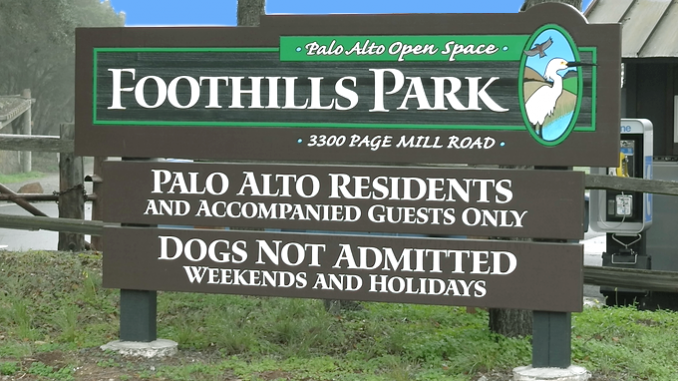 BY EMILY MIBACH
Daily Post Staff Writer
The Palo Alto Parks and Recreation Commission last night (Nov. 12) recommended that City Council should ease up on the rule that only Palo Altans can visit Foothills Park.
The commission voted 6-1, with commissioner Jeff Greenfield dissenting, to have council consider a one-year pilot program to allow non-Palo Alto residents to visit Foothills Park, as long as they pay a $6 fee and get a pass online to go into the park.
The program also makes it easier for students who don't live in Palo Alto to go to the park with their families or on field trips.
When the city bought the land for the park in 1958 from Palo Alto Medical Foundation clinic founder Dr. Russell Lee, City Council decided to limit access only to Palo Altans because Los Altos and Los Altos Hills refused to help pay for the purchase. In 1973, the idea of opening up the park to everyone first arose, but the restriction remained. The issue has returned a handful of times since.
Over the past year, Parks and Rec commissioners Ryan McCauley and Jeff Lamere have been looking into ways to open up Foothills Park to all.
McCauley, in his report last night to the rest of the commission, said that in 2017, some 3,800 people were turned away from Foothills Park because they are not Palo Alto residents.
Objection over fee
Greenfield, who voted against the pilot, said he doesn't like the idea of charging a fee to non-residents.
"It's still a tiered structure, but we were trying to reduce barriers (for entry)," Greenfield said. "It's not the right balance."
Greenfield also wanted the commission to recommend to council to change the criminal charge for a non-resident entering the park from a misdemeanor to an infraction.
Five residents spoke at yesterday's meeting and only one was against opening up Foothills Park to all.
Shani Kleinhaus said that the commission's six-month-long process on opening Foothills Park wasn't public enough. She also said that more environmental review needs to be done to make sure mitigations are made if more people are allowed to come into the park.
McCauley noted that after the commission recommends the pilot program, the city's planning and legal departments will take another look at the proposal, and do any testing needed for the pilot.
Former Mayor Leland Levy said he has great pride in all of the services that the city offers and that other cities and counties have open space that everyone can access. But Levy said he's been embarrassed that Foothills Park is not open to all.