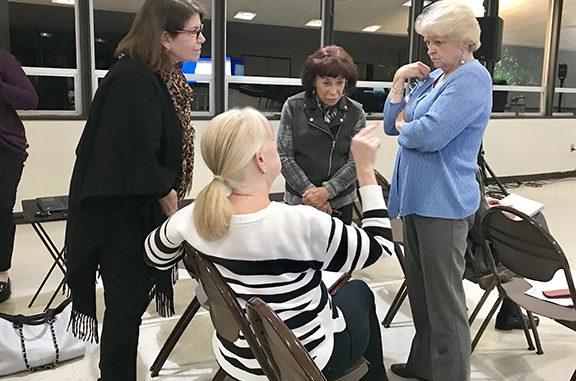 BY SARA TABIN
Daily Post Staff Writer
Los Altos City Council last night suspended the contract of a disability consultant after she told council that they can't move back to City Hall, but wouldn't explain why.
Council meetings were moved to the Los Altos Youth Center in January after Councilwoman Jeannie Bruins claimed the air in City Hall was triggering her asthma. Rachel Shaw of Shaw HR Consulting of Newbury Park in Southern California was hired by the city in September to deal with the disability issues posed by Bruins' complaint.
Shaw recommended last night that council stay at the youth center or move to a new location.
She said there are at least two, but less than five, councilwomen requesting disability accommodations.
She wouldn't give an exact number.
Shaw claimed she has looked at medical documents for the disabled councilwomen and has determined that city hall is unsafe for at least one councilwoman. The youth center is safe for everyone, she said. Having a disabled councilwoman participate in a meeting by telephone would not be inclusive, said Shaw. Shaw, who is not an attorney, suggested that having a council member call in might violate the open meetings law, though it is common procedure in other cities.
Shaw refused to elaborate on what makes City Hall unsafe, saying only that it has to do with the square footage and there is no fix. She explained that she was being vague because of medical confidentiality laws, and she asked council to trust her.
Shaw admitted that air testing she ordered for both buildings had determined that neither has unsafe air.
'Not fully baked'
Vice Mayor Jan Pepper called Shaw's presentation "not fully baked."
Residents have complained that the youth center is hot, has poor acoustics and lacks the technology to broadcast meetings on cable TV. The city finally started broadcasting on TV again last night after a 10-month blackout.
The audio issues have not improved. Last night, almost every council member had to do a mic check and shout back and forth with the crowd before speaking last night to make sure everyone could hear.
Resident Freddie Wheeler said Shaw's report was "unacceptably vague."
Resident Eric Steinle said his wife has debilitating allergies so he understands how difficult disabilities can be. Steinle said they use strong air filters in their house and suggested that the city do the same at City Hall.
Mayor Lynette Lee Eng asked why City Hall is safe for staff members if it's unsafe for the council. Shaw refused to explain.
Consultant's bill questioned
Lee Eng also asked why Shaw's bill has gone up. Shaw was hired on a contract that was not supposed to exceed $40,000. Since then City Manager Chris Jordan raised her contract to $70,000. Shaw said her price increased because she put in more time.
She also said she began working for the city in July, which doesn't line up with previous statements about how she was hired in September.
The council has wanted to discuss moving back to chambers for months and the issue kept being put off, said Lee Eng. She said she doesn't want more taxpayer money to be spent on this issue. She proposed a motion, which passed unanimously, to accept Shaw's report and suspend her contract.
That does not mean council is taking Shaw's suggestions.
Council voted to have Jordan put on council's agenda for next week a vote on where council will meet in the future. At a June 25 study session, council voted 4-1 to move the meetings back to City Hall. But Jordan didn't follow the council's directive, and has kept the meetings at the youth center. His defenders say he bypassed the council's decision because he wanted to avoid an ADA lawsuit.
The council also directed Jordan to make a list of possible alternative locations, with details about those venues such as their size.
Jordan complained that that is too much work to complete in time for next Tuesday's meeting.
It will also be difficult for the councilwoman to know whether the new locations are acceptable under Shaw's criteria now that she has been suspended and is refusing to tell anyone what the risks are at City Hall.