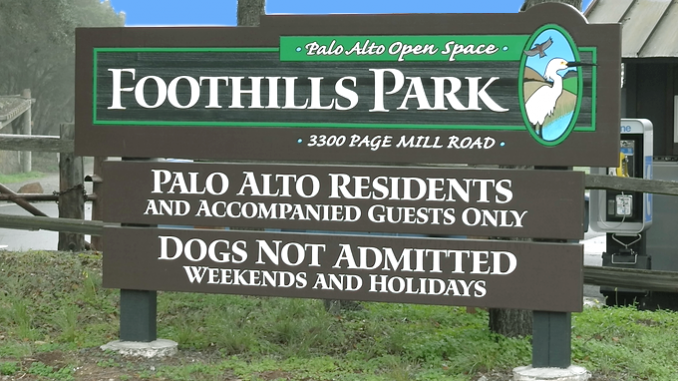 BY EMILY MIBACH
Daily Post Staff Writer
The Palo Alto Parks and Recreation Commission wants to look at options for easing up on the rule that only Palo Alto residents can visit Foothills Park.
When the city bought the land for the park in 1958, City Council decided to limit access only to Palo Altans. In 1973, the idea of opening up the park to all first arose, but the restriction remained. The issue has returned a handful of times since.
Parks and Recreation Commissioner Ryan McCauley has formed an ad-hoc committee to look into ways to open up Foothills Park to all. On Tuesday, he presented some potential options for opening the park, including:
• limiting access on weekends and holidays to Palo Altans only and allowing everyone else to access the park at other times;
• allowing children in nearby communities to go to the park;
• requiring non-residents to reserve a pass to go to the park on weekends.
A dozen or so residents weighed in on the issue at Tuesday's meeting, with about half in favor of opening up the park and half against the idea.
Those against opening up the park talked about how fragile the park is and if more people are allowed in, they would damage it. One person insinuated that park goers would no longer be safe if the park was opened up to all, according to Chair Don McDougall.
Those in favor of the park suggested ways to keep the population of the park manageable, and at least one resident talked about whether the residents-only aspect is in order to keep people of color out of the park.
History of the Palo Alto-only restriction
When the city of Palo Alto bought the park from Palo Alto Medical Foundation clinic founder Dr. Russell Lee in 1958, Los Altos and Los Altos Hills were invited to help with the purchase, but they declined. Then the Palo Alto City Council voted to limit the park to Palo Alto residents.
McDougall said that the commission was open to having McCauley's committee work more on opening up Foothills, and instructed him to come back in the next couple of months with more refined options and possibly more options.
McDougall anticipates the Foothills Park discussion will come back to the commission at least twice before the panel makes a recommendation to city council. He hopes that council will discuss the issue in early 2020.