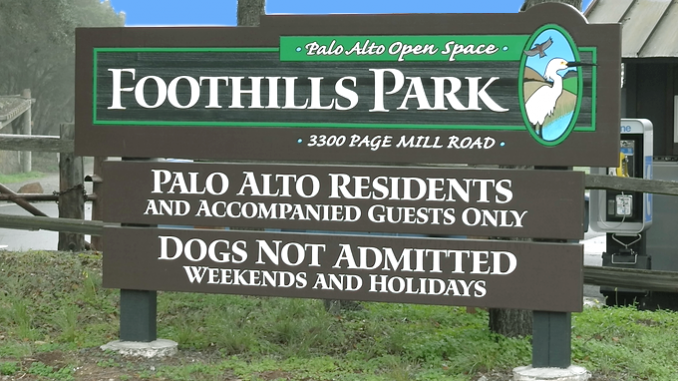 HOW THEY VOTED
On a substitute motion by Liz Kniss to open Foothills Park to non-residents on a trial basis and then have a ballot measure on whether to open it permanently in 2022, the vote was:
Yes
Liz Kniss
Lydia Kou
Greg Tanaka
Tom DuBois
Eric Filseth
No
Adrian Fine
Alison Cormack
BY SARA TABIN
Daily Post Staff Writer
Palo Alto's Foothills Park will open to non-residents on a trial basis starting this fall or winter, and may remain open permanently depending on how a citywide election turns out in 2022.
City Council last night, in a 5-2 vote, decided to open the 1,440-acre park on a trial basis, with a $6 fee for non-residents, to gather information for a 2022 ballot measure. But the ballot measure isn't certain, since one council can't bind the next council to a decision like that.
The park will also be renamed "Foothills Nature Preserve."
Most of the speakers at last night's meeting, which was held on the Zoom platform because of the coronavirus, called for opening the park, saying its closure is racist and exclusionary, while those who wanted to continue to bar nonresidents said opening it will lead to overcrowding that would ruin the park's natural beauty and fragile environment.
Separate polls by Councilwoman Lydia Kou and Roger Smith, founder of Friends of the Palo Alto Parks, found residents strongly opposed opening the park to non-Palo Altans. Kou's internet survey of 1,129 residents found 81% were against the idea. Smith's NextDoor survey of 251 people found 78% opened the proposal.
Still, Councilwoman Alison Cormack said opening the park is the right thing to do.
"We turn away thousands of people a year and the body of evidence shows there is room for them in the park," she said.
Mayor Adrian Fine also supported opening it, saying it is odd that his brothers who grew up in Palo Alto but live elsewhere now can't enter the park without being escorted by Fine or his wife or parents.
Kou said opening the park might mean the city would have to take it away from future generations if the environment is degraded. She proposed letting voters decide the issue instead of the council.
Fine said voters probably won't support opening the park, but that doesn't matter because it is the ethical thing to do.
"You don't put civil rights to a vote," he said.
Councilman Greg Tanaka supported a ballot measure but questioned where the city would find the money to implement the pilot program after the council had just made millions in budget cuts.
Daren Anderson, the city's manager for open space, parks and golf, said the park now attracts 152,000 people a year, and opening it to non-residents will likely increase that number by 19%.
Under the pilot program, non-residents would have to buy permits online for $6. The city would limit the number of non-resident permits to 50 a day.
He said managing the increase will be difficult unless the city fills a fourth ranger position, a management position that would cost $150,000 a year. Currently the position has been left unfilled to save money.
Councilwoman Liz Kniss managed to strike a compromise by proposing to open the park on a trial basis this fall or winter, and putting the question to voters in the November 2022 election. The compromise bridged the two sides — Fine and Cormack, who wanted to approve the trial opening, and Kou, who wanted the voters to decide whether to open the park.
Kniss said her approach will allow the city to collect data on the environmental and fiscal impact of opening the park that can be considered by voters before the 2022 election.
Tanaka agreed to the changes but asked that the pilot program not cost any additional money. That means it would be paid for by the fees from visitors.
Cormack did not support the compromise. She pointed out that any future council doesn't have to follow through with the ballot measure. She also said the ballot measure will cost money — at least $50,000 by City Clerk Beth Minor's estimate.
Cormack said she thinks the city will save money if it doesn't keep track of non-residents at all. The city estimates that it spends about $90,000 a year keeping non-residents out. She said the extra money for the pilot program should come from the $744,000 council put in a COVID-19 "uncertainty reserve" fund primarily for the Community Services Department.
Fine objected to renaming the park as a nature preserve, something Councilman Tom DuBois suggested, without first sending the proposal to the city's commissions.
Before council's vote, the public comments were heated.
For example, Stephanie McDonald said that people who say the park should stay closed to non-residents to protect its environment are like President Trump, who said Mexico is sending America rapists and drug dealers. She said both use scare tactics to support racist policies.
Richard Mehliger said Palo Alto is segregated from East Palo Alto as the result of racist policies. He said keeping the ban with the excuse of protecting nature is an example of "eco-facism."
Randy Mont-Reynaud said Palo Altans should learn to share its park like most people learn in kindergarten.
Former Mayor Leland Levy sang a satirical version of "This Land is Your Land" in support of opening the park.
"This park is my park, it is not your park … this park was made for only me," he sang a cappella to council and the audience on Zoom.
David Gobuty, on the other hand, said the issue should be placed on the ballot. He said the city's residents are ethnically diverse and will likely want the park to stay how it is.
Mark Nadim said the park's parking lot is already nearly full on the weekends without the park being opened to more people. He said increased visitors will threaten the park's delicate ecosystem.
One reason Palo Alto prohibits non-residents from using the park is to keep Los Altos and Los Altos Hills residents out because those cities refused Palo Alto's invitation to help pay for the park in 1959.
Rebecca Eisenberg, an attorney who is running for council this fall, said the park should be opened to non-residents, citing racial discrimination.
"I urge you to take this opportunity to open Foothills Park permanently, freely and fully. Foothills Park is an example of enforced segregation based on a history of segregation. Yes, Palo Alto paid for it while our less white, less wealthy neighbors did not," said Eisneberg. "Palo Alto engaged in more than a century of official racial redlining including mandatory restrictive covenants on titles making it a crime to sell property to a person of color. … Although our mostly white residents and governance of Palo Alto may have not have caused this segregation, we must acknowledge that we, including me as a white person, benefit from this segregation. It is time for us to create a fair Palo Alto."
Editor's note: This story has been revised to include a longer quote from Eisenberg to provide more context to her remarks.