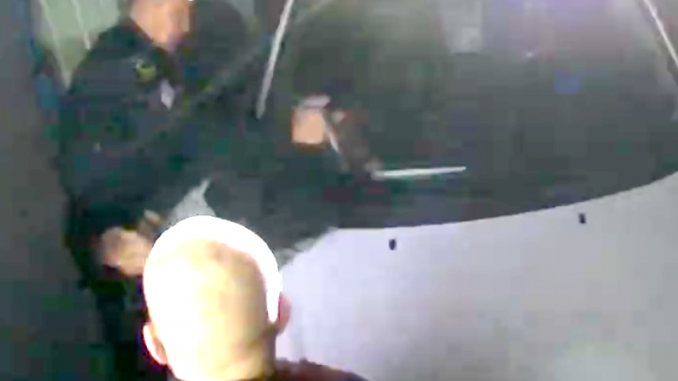 BY SARA TABIN
Daily Post Staff Writer
Palo Alto's city leaders are promising police reform in the wake of George Floyd's murder, but what they plan to do hasn't been spelled out, nor is it certain that any increased transparency will include releasing videos of an alleged police beating from July.
City Manager Ed Shikada and Mayor Adrian Fine put a resolution supporting the Black Lives Matter movement and committing the city to police reform on City Council's agenda for tonight (June 8).
Shikada told the Post that the city can always make improvements. He said Palo Alto should lead the national conversation by being proactive and transparent. He also tweeted that the city needs comprehensive police reform.
However, neither official provided any specific ideas on how to reform the police force or increase transparency.
Aram James, a former Santa Clara County assistant public defender and a close observer of the police, said the department has a long history of brutality and racist behavior. He said council members need to hold officers to a higher standard.
Video of Latino man's beating withheld
Neither Shikada or Fine would say if the city will release video footage from an alleged police brutality incident involving a Latino man that could lead to a lawsuit against the city.
Julio Arevalo filed a claim against the city for $3.8 million in November. He said he was "violently attacked" by Agent Thomas DeStefano on July 10.
Arevalo also alleges that DeStefano included false information in his police report of the incident. Arevalo said in his claim that he was denied proper medical care and has suffered pain and emotional distress because of the incident.
If the city denies Arevalo's $3.8 million claim, he has until July 10 to sue the city.
A law that went into effect in July 2019, AB748, requires the release of police bodycam video and audio recordings within 45 days unless the law enforcement agency can demonstrate "clear and convincing evidence that disclosure would substantially interfere with the investigation."
The Post filed a records request with the city on Jan. 10 to get any video or audio footage that was recorded by police officers' body-worn cameras or patrol cars during the alleged assault. Palo Alto police wear body cameras that officers are supposed to record when they interact with people.
Video release postponed
Lisa Scheff, public safety program manager for the police department, said in January that the video would be released in March. In March, Scheff pushed the release date to April, and then pushed it to July 30.
If Arevalo sues before the statute of limitations expires on July 10, the police may argue on July 30 that they can't provide the video because of a clause in the California Public Records Act that allows government agencies to withhold documents involved in active litigation.
The Arevalo case isn't the only allegation of police brutality in the department.
DeStefano, who is accused of beating Arevalo, was one of the officers accused in a lawsuit five years ago of breaking a man's arm during a 2013 traffic stop. The city settled that suit for $250,000 after the man's attorney started investigating the police department's claim that two of its dash cams malfunctioned during the arrest.
Anti-gay allegation
In November, the city agreed to pay $572,500 to Palo Alto resident Gustavo Alvarez, who was beaten by a Palo Alto police officer in a Feb. 17, 2018, incident caught on video (see photo above). In the settlement, Alvarez also got an apology from former Sgt. Wayne Benitez, who allegedly slammed Alvarez on the hood of a car and mocked him for being gay. Palo Alto officers will be given LGBTQ awareness training. Benitez has since retired.
James, the former public defender, also pointed to the 2003 beating of then 59-year-old black resident Albert Hopkins. Two Palo Alto police officers, Craig Lee and Michael Kan, had felony charges filed against them for the incident. A jury was deadlocked on the case, the two officers were convicted of infractions, and the city later settled a civil suit by paying Hopkins $250,000.
James said Lee and Kan should have been fired. They weren't, and Lee has since been promoted to sergeant.
Officer says superior used n-word
Last year, the Post reported that police Capt. Zach Perron was investigated for using a racial slur while speaking to a black officer, but the case was kept from the public eye.
The officer, Marcus Barbour, told the Post that Perron made the joke — using the word "n****s" — after Barbour rescued a black felon who had jumped into San Francisquito Creek during a police chase on Jan. 28, 2014.
Barbour saved the felon's life and received the Police Department's Medal of Valor for the rescue.
Barbour has since left the department and works for another law enforcement agency. In 2017, Perron was promoted from lieutenant to captain.
The investigation into Perron's use of the derogatory word was done by a law firm hired by the city. The law firm's report wasn't released to the public and wasn't even shown to the city's independent police auditor, who would have issued a public report about it. The police auditor was commissioned by City Council in 2007 to provide an independent look at the handling of complaints about police.
The city has released little information about Perron incident, saying it was a HR matter, which is normally confidential. In March, a report from City Manager Shikada said an allegation against an unnamed supervising officer was "supported" by an investigation.
James said the city should release the full Perron report to the public.
James said the city should hold a public forum where residents suggest ideas for reform. He said a committee of residents, including police brutality victims, should be appointed to review police conduct. He said the police department's "bloated budget" of $47 million should also be put under scrutiny.