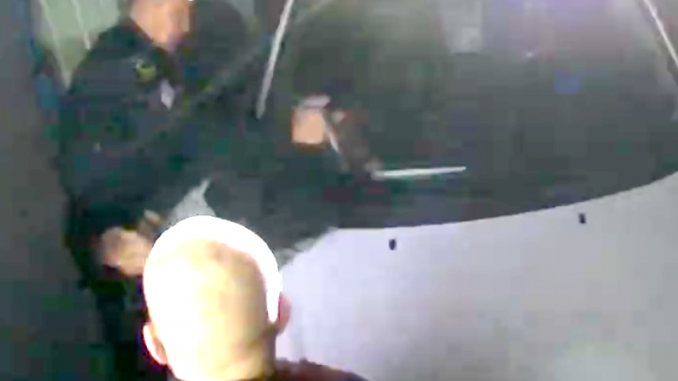 By the Daily Post staff
The city of Palo Alto has agreed to pay $572,500 to a Buena Vista Mobile Home Park resident who was beaten by a Palo Alto police officer in an incident caught on video.
In the settlement, Gustavo Alvarez and his attorneys will receive the cash settlement, an apology from former Sgt. Wayne Benitez, who slammed him on the hood of a car, and officers will receive additional sensitivity training.
"While the city and Police Department sharply dispute the vast majority of Mr. Alvarez' claims and have deep concerns about Mr. Alvarez' continuing criminal behavior, the city believes that this resolution is in the best interests of all involved – including the Police Department, its police officers, and Mr. Alvarez," city officials said in a statement.
The settlement was approved by City Council in a closed-door session on Monday night. It was announced today. The incident happened on Feb. 17, 2018.
While the case was pending, Benitez retired from the department. The attorneys for Alvarez accused Benitez of failing to mention his use of excessive force in his police report. Soon after that allegation was made, Benitez was put on paid leave.
In October, Benitez told the Post he was retiring because he was almost 62. He said the reporting on the incident has been one-sided but he could not give his side of the story because the matter was still under investigation.
Nearly all of the information about the incident has come from Alvarez's attorney since the city decided to not provide its side of the story publicly.
Cordell: No 'real' consequences for Benitez
Retired Judge LaDoris Cordell said she is upset that Benitez was allowed to retire without facing real consequences for his physical conduct and homophobic remarks.
"Everything points to this sergeant being a really bad cop," she said. "He's going to walk away from the city of Palo Alto and we taxpayers are going to be paying his benefits."
Cordell also said she is concerned that Benitez could get a new law enforcement job at a different agency in the future.
But Cordell said she supports settlements since they save everyone the expense of going to court.
Video released to news media
The case heated up in July when Alvarez's attorneys, Cody Salfen and Samuel Gordon of San Jose, released a video to the news media showing Benitez slamming the head of Alvarez on the hood of a car outside Alvarez's apartment. Just before slamming his head, Benitez is heard to say, "So you think you're a tough guy?"
The video also includes a voice, believed to be that of Benitez, mocking Alvarez because he's gay.
The pretext of police going to Alvarez's home that evening was their belief that he had been driving drunk. After arresting Alvarez and taking him to the jail, the DUI charges were dropped and Alvarez was released.
However, the police beating took a toll on Alvarez. He lost a tooth, according to the lawsuit.
Will the DA prosecute officer?
The Santa Clara County District Attorney's office said in August that it was gathering information to decide whether to open a case on Benitez. That case has not been opened yet because the city hasn't given the DA its report yet, according to DA spokesman Sean Webby.
Webby said yesterday that the DA expects to get the report "soon."
JJ&F skylight burglar
Had the civil suit gone to trial, it's likely jurors would have been told about Alvarez criminal history. In the past 20 years, he was the subject of seven felony and 11 misdemeanor complaints in Santa Clara County Superior Court.
Perhaps his most famous arrest came in July 2012 when officers caught him rappelling into the now-defunct JJ&F Market through a broken skylight. But most of the cases involve drugs.