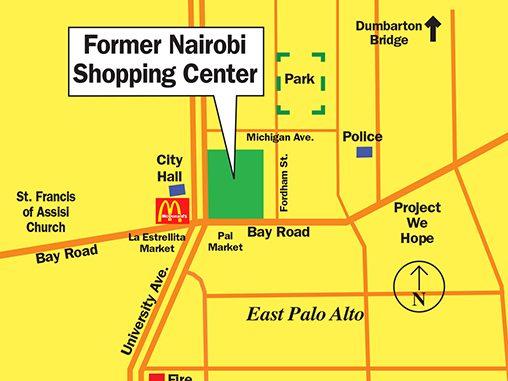 Only a fraction of the stories the Post publishes in its print edition appear on this website, padailypost.com. To get all of the local news, pick up the Post at 1,000 mid-Peninsula locations every morning.
BY EMILY MIBACH
Daily Post Staff Writer
A six-acre site across from East Palo Alto's City Hall that used to be home to the Nairobi Shopping Center has been purchased for $42 million by Peter Pau's Sand Hill Property Co.
The Four Corners site, at the corner of Bay Road and University Avenue, has long sat vacant since Mickey's Liquors closed and the majority of the shopping center burned down in the late 80s after a series of fires hit the shopping center in the decade prior.
In May 2006, Barry Swenson bought the property for $6.5 million, and discussed building high-density housing on the site, but nothing ever materialized.
Sand Hill bought the property from Green Valley Corporation, and paid $46,200 in transfer tax, according to a filing recorded on Nov. 1 with the San Mateo County Assessor's Office.
Nothing is proposed for the site yet, the company's press release only says that a "vibrant mixed-use project" will someday be erected there.
Interim Assistant City Manager Patrick Heisinger said nothing has been filed with the city for the site, but did say that Sand Hill contacted the company earlier this week to let them know about the sale.
"This site has been vacant for decades, it is time to activate this important corner of East Palo Alto," Sand Hill Managing Director Michael Kramer said in a press release.
The four corners of Bay Road and University are part of a zoning plan to reinvigorate the core of East Palo Alto. The zoning plan was approved by council in 2013, and aims to have primarily retail or community space on the ground floor and apartments on the upper floors. Offices are also allowed in the area.
This is the second largest land purchase for Sand Hill in East Palo Alto. About three years ago, the company bought Woodland Park apartments. The company is pursuing a plan to tear down 160 apartments and replace them with 605 new apartments.