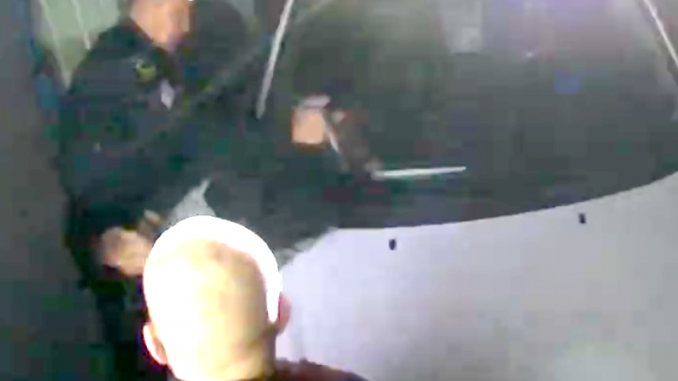 BY EMILY MIBACH
Daily Post Staff Writer
A video showing a Palo Alto police sergeant hitting and slamming a resident of the Buena Vista Mobile Home Park has been released by the man's lawyer, who has filed a suit against the city alleging excessive force.
Sgt. Wayne Benitez, who can be seen hitting and slamming the head of Gustavo Alvarez on this video (from the :39 to the :59 mark), has been placed on leave.
At the :59 mark, Benitez tells Alvarez, "So you think you're a tough guy?" and then slams his head into the windshield.
At the time, Alvarez had been suspected of driving on a suspended license.
Alvarez, 38, filed the suit in federal court on April 29 and is represented by San Jose lawyers Cody Salfen and Samuel Gordon.
The suit also claims the officers mocked Alvarez for being gay. On an audio recording released by Salfen, Benitez says "he's gay," and then raises his voice to imitate Alvarez, and says "come and get me."
Police spokeswoman Janine de La Vega told the Post that Sgt. Benitez is on leave, but would not say when he was put on leave. The incident happened on Feb. 17, 2018 and Benitez had been on the job as recently as March 30.
Mayor Eric Filseth said that he, along with the rest of council, have seen the video. On June 17, the council met behind closed doors to discuss the lawsuit. Afterward, Filseth announced that council had taken no reportable action during the closed session.
Filseth declined to comment further, saying that the city doesn't comment on active lawsuits, but added: "obviously the city takes misconduct allegations extremely seriously."
City Manager Ed Shikada said in a statement that the city does not comment on ongoing lawsuits, and that the police department investigates allegations of misconduct "to hold officers accountable if misconduct is determined to have occurred."
Cordell to file a complaint
LaDoris Cordell, who has previously served as a Palo Alto Councilwoman, Santa Clara County Superior Court judge and San Jose Independent Police Auditor, said yesterday that she plans on filing a complaint with the Palo Alto Police today about the incident.
"I found it so disturbing," Cordell said of the video.
Cordell's complaint focuses on Benitez's interaction with Alvarez and his use of force.
Salfen told the Post yesterday (July 23) that the footage of the Feb. 17, 2018, incident is being released now because he wants "similarly situated" Palo Altans to be aware of this case and to use the video "for their own protection" so that they are not "victimized" by the Palo Alto police.
Alvarez alleges that Officer Christopher Conde approached Alvarez while he was standing in the driveway of his mobile home and told him that he had seen him driving while his license was suspended. Alvarez disputed that, and said Conde didn't see him driving on a street or check his license status before detaining him.
Conde then called for backup and was joined by Sgt. Wayne Benitez, Agent Thomas Alan DeStefano Jr. and officers Thomas Hubbard and "Johnson" — the suit doesn't identify the last officer's first name.
Police then slammed Alvarez onto the front hood and windshield of his 2002 Ford Focus, and assaulted him as they searched him, his home and car.
'Fit of rage' alleged
Alvarez claims that Benitez, 61, punched him in the back while he was face down on the hood of his car, slapped him on the side of the face and yelled at him to shut up.
Benitez is also accused of going into a "fit of rage" and grabbing the handcuffed Alvarez before slamming his face and body onto the hood of his car while asking, "So you think you're a tough guy?"
This allegedly knocked Alvarez's tooth loose, which he said he later pulled out in jail because he was afraid to ask for medical care. When he complained that he was bleeding, Benitez yelled, "You're gonna be bleeding a whole lot more."
The suit states that officers mocked and humiliated him for being gay while he was in their custody.
One of the officers on the recording says "I don't like spending too much time out here … they think it will be an ICE raid and the distrust (part inaudible). We will be as nice as we can initially, but you don't want to force our hand. No we are not backing down and getting a warrant and all that."
Alvarez and someone else off camera repeatedly asked officers if they had a warrant. They said they didn't need one.
Alvarez was booked into Santa Clara County Jail that night on suspicion of DUI, driving while his license was suspended or revoked for DUI, resisting arrest and possessing both drug paraphernalia and lost property.
Charges from that night were dismissed.
Alvarez's record
Police logs show that three weeks before the incident, Alvarez was cited on suspicion of driving with a suspended license on Vista Avenue at El Camino Real.
Seven felony complaints and 11 misdemeanor complaints have been filed against Alvarez in Santa Clara County Superior Court in the last 20 years.
In July 2012, Alvarez was arrested for allegedly breaking the skylight at JJ&F at 520 College Ave. and rappelling into the store using a black satellite dish cable as a rope.
In April 2013, Alvarez was arrested on suspicion of possessing drug paraphernalia, driving on a suspended license and on a warrant.
In May 2018, he was arrested at home on suspicion of drug intoxication and possessing drug paraphernalia and drugs for sale.
Alvarez was arrested on warrants from outside police agencies in September 2017, December 2017 and March 2019.
Previous suit against Benitez
Benitez, the sergeant seen slamming Alvarez on the video, also has a legal history.
He was named in another police lawsuit against the city filed by Mahmoud Elsayed, 65, who said he was wrongfully accused of smashing a floodlight outside a townhouse that he owns and rents to tenants at 4173 El Camino Real in Palo Alto.
Elsayed alleges police botched their investigation, racially profiled him and exhibited Islamaphobia. The lawsuit names former Police Chief Dennis Burns, Capt. Ron Watson, Detective David McAlee and Sgt. Benitez. The suit is still pending.