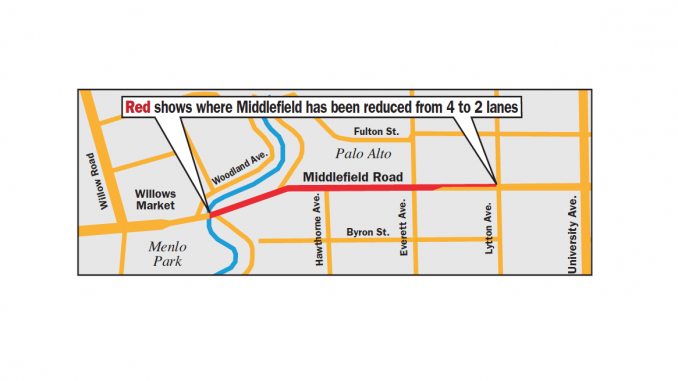 By the Daily Post staff
The year-long temporary "road diet" on Middlefield Road in north Palo Alto — which reduced a four-lane route to two lanes in some places — appears to be on its way to becoming permanent.
Palo Alto City Council on Monday night (Jan. 14) is scheduled to vote to make the changes permanent. The decision is on council's consent calendar, where a number of items deemed uncontroversial are grouped together in one vote with no debate.
The changes pushed traffic onto other streets, a study by the city shows. On five parallel routes to Middlefield Road, the average number of cars calculated over a two-day period increased from 687 before the pilot period to 952 afterward. Hardest hit were Guinda and Fulton streets, but a report to council from City Manager Ed Shikada said the traffic on those streets was within "acceptable ranges" for those type of streets.
Traffic went down on Hawthorne and Everett avenues near Middlefield.
The pilot cost about $200,000.
The major change is that the city reduced Middlefield north of Lytton Avenue from two lanes in each direction to one lane. the city created a center turn lane between Everett Avenue and San Francisquito Creek (the Menlo Park line).
Shikada's report said the changes appear to have reduced the collision rate in half, a five-year low for that part of the Middlefield Road area. Accidents were a major concern of the residents on Middlefield who lobbied council for the road diet.
The city surveyed about 350 residents in the area by mail before, during the middle and at the end of the trial period. Surveys were mailed to residents living within 2-1/2 blocks of Middlefield between Forest and the Menlo Park line.
Support for keeping the road diet grew from 33% to 66% from the beginning to the end of the trial period.
Shikada said in his report that while the city heard concerns about the increase in traffic on adjacent streets, "much of the feedback regarding the revised configuration and operations has generally been positive."