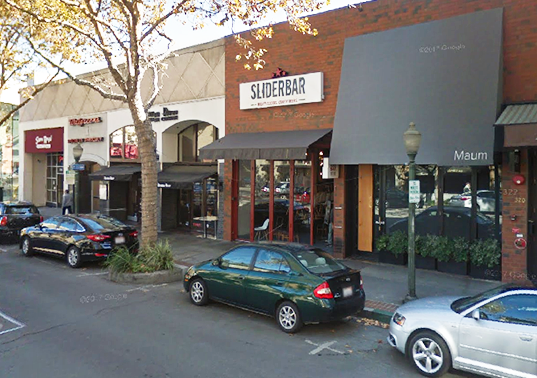 BY ALLISON LEVITSKY
Daily Post Staff Writer
The owner of SliderBar, a burgers-and-beer restaurant at 324 University Ave. in Palo Alto, is demanding $84,548 in lost revenue from the city after a downtown construction project allegedly slowed down sales.
Restaurant owner Ashwani Dhawan filed the claim with the city on Nov. 20, alleging that between March and August, his sales dropped 13% compared with the same period in 2017.
"SliderBar in-store sales are down 13% compared to same period last year because of all the road blocks, sidewalk blocks, driving challenges, dust, noise created by Palo Alto downtown street improvement project," Dhawan wrote.
According to a sales report Dhawan gave the city, SliderBar had $591,756 in sales between March and August, their peak season for sales. During the same months in 2017, the restaurant took in $676,756, Dhawan told the city.
The city's Upgrade Downtown project started in 2017 with water pipe replacements and street improvements and is expected to wrap up in 2021.
Dhawan told the Post that he thought the city should have been more communicative about the impacts of the project. Other business owners have complained as well, but he said he hadn't heard of other businesses filing claims.
"There are a lot of people who are suffering and hurting," Dhawan said. "Businesses are closing on University Avenue."
The Yogurtland shop at 494 University Ave. on the ground floor of the Hotel President building, which was sold to a real estate investment group in June, recently closed.
Water and gas pipe replacements Last year saw water and gas pipe replacements and street improvements on University Avenue between Webster and Emerson streets, as well as on Hawthorne and Everett avenues, from Middlefield Road to Alma Street.
Other construction took place on Alma and Bryant streets, Kipling Street between Lytton and Hawthorne avenues, Tasso Street and Forest Avenue between Alma and Ramona streets.
The city released the claim form to the Post as part of a California Public Records Act request. Dhawan said he has not received a response from the city. If the city rejects the claim, Dhawan doubted his business would be able to afford a lawsuit.
"We are fighting against the entire city of Palo Alto. We barely can sustain our business," Dhawan said.