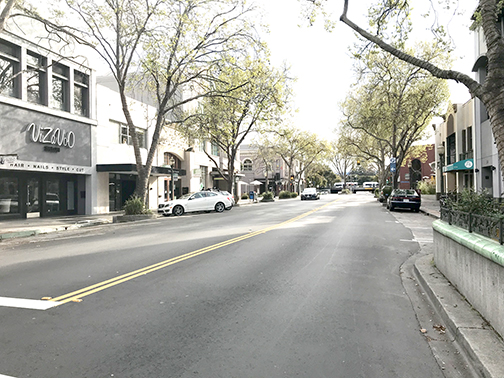 UPDATE, SUNDAY, 4:30 p.m.: The Palo Alto Chamber of Commerce today (May 31) released a survey of businesses on University and California avenues showing strong support for creating pedestrian malls on both streets. On University Avenue, 83% of businesses were "strongly in favor" or "in favor with reservations." Support was also strong on Cal Ave, with 93% "strongly in favor" or favoring the idea with reservations.

Here's the chamber's survey and the chamber's letter to City Council.
BY SARA TABIN
Daily Post Staff Writer
Palo Alto is considering closing University Avenue and California Avenue to cars to let restaurants seat people outdoors.
Restaurants are currently not allowed to have sit-down service under the county stay-at-home order, but that may change in the weeks ahead if Santa Clara County decides to follow the state's lead on reopening businesses.
Menlo Park is exploring the closure of Santa Cruz Avenue downtown to help restaurants. And San Carlos is looking at closing three blocks of Laurel Street.
Judy Kleinberg, Palo Alto's Chamber of Commerce president, said based on other counties, people expect that Santa Clara County will limit indoor seating and require social distancing in restaurants once things begin to open up.
She said restaurant owners and managers have told the Chamber of Commerce that they will fail under those conditions because they won't be able to seat enough people.
Kleinberg said outdoor seating will help restaurants survive. She said restaurants are the magnets of commercial zones and help other businesses thrive. She said the chamber just finished surveys of businesses on both streets. Although the results have not been analyzed, she said a superficial look at them showed strong support for closing the streets.
Kleinberg met Friday with City Manager Ed Shikada to discuss possible street closures. Shikada previously told council that the city is looking into closing the streets.
Councilwoman Liz Kniss said she thinks the city isn't moving fast enough.
Kniss, who participated last month in a roundtable meeting with business owners on the financial impact of the virus, said the pandemic has been "dire" for businesses and the city needs to do as much as it can to help.
The idea of closing University Avenue has been discussed several times over the years, but now it appears to be gaining momentum. Lately, many residents have written to council in support of the closures.
Lucy Blake said closing the streets would allow musicians to play on the streets and families to go downtown without worrying about kids getting into the road. Ravi Rajan said closing the streets will help restaurants and cafes get through tough times. Brooke Hulteen said she lost her job in hospitality during the shutdown. She said closing the streets will help protect other people's jobs.