By the Daily Post staff
Target this afternoon (May 31) temporarily closed 175 stores across the country — including those in East Palo Alto, Redwood City, San Mateo and Mountain View — four days after looters struck a Minneapolis store during protests over the police death of George Floyd.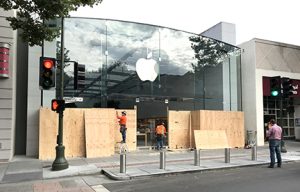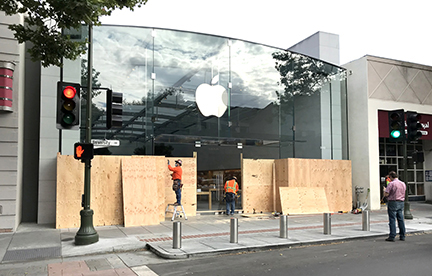 In East Palo Alto, the front of the Target store was boarded up along with the Nordstrom Rack next door.
At 4 p.m. today, Target employees were ushering customers out of the store, and those approaching the front door were told the store was closing. Two East Palo Alto police cars were parked by the front.
Target didn't say in a press release when its stores would reopen, and employees in East Palo Alto didn't know either.
In downtown Palo Alto, workers were boarding up the front of the Apple Store at 340 University Ave. The front of the Apple Store is entirely glass, which makes it vulnerable to vandals.
Looting was reported Saturday night in San Francisco, Oakland and San Jose. San Francisco and Oakland are under curfews tonight.
There has been no looting in the Palo Alto area since riots broke out across the country. A peaceful protest drew about 30 people this afternoon to Lytton Plaza, at University Avenue and Emerson Street.