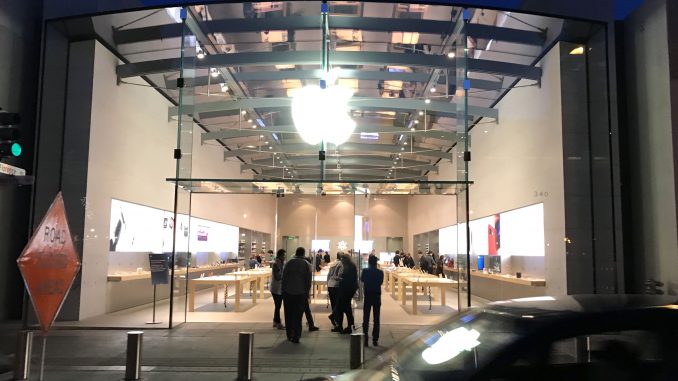 By the Daily Post staff
A four-member crew of thieves has struck Palo Alto's downtown Apple Store, grabbing $40,000 in merchandise while bystanders watched or shot video of the scene with their iPhones.
Apple Stores in Burlingame, Santa Rosa, Emeryville and Walnut Creek have been targeted in similar grab-and-go heists in the past 10 days.
The Palo Alto heist happened at 7:28 p.m. Saturday (Sept. 1) at the 340 University Ave. store, according to police spokeswoman Agent Marianna Villaescusa.
Three of the men wearing hoodies entered the store, sliced the phones and laptops from their security tethers and ran out the door to a Volvo waiting on Florence Street, across from the store, Villaescusa said. The fourth man in the crew was behind the wheel.
"Lots of bystanders outside took videos with their phones of the guys jumping into the car and speeding off," said Jim Pellman of San Jose, who was in the store at the time of the heist. The getaway car was described as a 1998 S20 Volvo, either tan or silver, with a piece of paper taped over its license plate.
Nobody got a detailed description of the thieves other than that they were in their late teens or early 20s.
The next day at 11:30 a.m., a crew of four males in hoodies, who were also in their teens or 20s, hit the Burlingame Apple Store, taking $50,000 in laptops and phones.
The Palo Alto and Burlingame incidents follow Apple Store thefts on Aug. 22 in Corte Madera, Aug. 25 in Emeryville and Walnut Creek, and Aug. 29 in Santa Rosa.