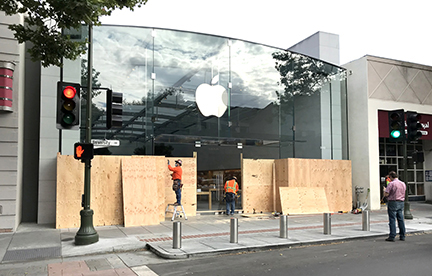 By the Daily Post staff
Police are warning businesses in the mid-Peninsula to prepare for the violence that has ravaged cities from California to New York following the death of George Floyd, a black man who pleaded for air as a Minneapolis police officer pressed a knee into his neck.
Redwood City police, in an email to the city's businesses, said they have learned of several demonstrations planned locally:
• Today (Monday, June 1), demonstrations took place in Menlo Park and San Carlos.
• Tomorrow (Tuesday, June 2), protests are planned in downtown Redwood City at 4 p.m.
• Wednesday (June 3), East Palo Alto and San Mateo. The EPA protest will be at noon at Jack Farrell Park, 2277 University Ave. The San Mateo protest is set for 5 p.m. at City Hall, 330 W. 20th Ave.
"…We ask local businesses to plan accordingly, such as removing any outdoor furniture and/or boarding windows," Redwood City police said.
Palo Alto police Sunday night were watching for potential looters. One officer said over the police radio that his colleagues should be aware of a "large crew hitting malls" in the Bay Area.
On Saturday, thieves stormed stores in Emeryville, snatching flat screen TVs, shoes and other goods.
In Palo Alto, workers on Sunday boarded up the Apple Store at 340 University Ave. in Palo Alto.
Sunday afternoon, Target temporarily closed 175 stores across the country — including those in East Palo Alto, Redwood City, San Mateo and Mountain View — four days after looters struck a Minneapolis store during protests against police there.
At 4 p.m. Sunday, Target employees were ushering customers out of the store, and those approaching the front door were told the store was closing. Two East Palo Alto police cars were parked by the front. Target didn't say in a press release when its stores would reopen, and employees in East Palo Alto didn't know either.
"We will always protect free speech and the right to live without fear of violence or vandalism," Redwood City said in its message to businesses. "To increase safety for demonstrators, law enforcement, and the Redwood City community, the Redwood City Police Department is actively preparing for this event and will have a strong presence for safety and to allow for a peaceful and respectful demonstration."