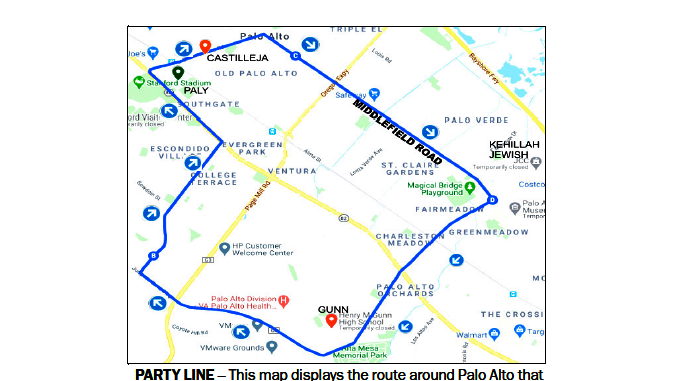 BY SARA TABIN
Daily Post Staff Writer
Gunn and Palo Alto high schools will hold a joint car parade with Castilleja and Kehillah Jewish high schools on Wednesday to celebrate graduating seniors since commencement exercises have been canceled due to the pandemic.
Residents are being asked to cheer on their lawns for seniors during the "senior shout-out" that will begin at 5:45 p.m.
Gunn principal Kathie Laurence told the Post that seniors and their families will be the ones driving cars through the city.
Los Altos High School is also hosting car parades on Monday, Tuesday and Wednesday, but it will be teachers who drive through the city to celebrate students.
Palo Alto is not having parade participants coordinate their locations. Instead, families will all join the parade route at the closest point to their house. Laurence said families will find each other along the way.
She said she thinks people will decorate their cars which will help participants see who else is in the parade.
The district planned the parade in the past week after the county announced that car parades were legal on May 18, about 11 days after they were banned by the county. The county never explained how car parades would endanger anyone's health.
Under the county's current regulations, members of the same household are allowed to ride in the same car and cannot leave the cars during the parade.
"Everybody is feeling for the seniors, it's been a hard spring," Laurence said. "High school graduation is such a big deal."
Palo Alto's school district is asking everyone to stay in the right-hand slow lane and follow driving rules like stopping for red lights.
Families who don't own a car can get assistance from the district at https://tinyurl.com/paradecarhelp2020.
Driving directions for the parade:
Assuming you are heading north on El Camino Real as your starting point
• Drive North on El Camino Real
• At Paly, turn right onto Embarcadero Road
• Turn right onto Middlefield Road
• Turn right onto Charleston Road
• Cross the train tracks and El Camino Road — you're now on Arastradero Road
• Just past Gunn, turn right onto Foothill Expressway
• Turn right onto Stanford Avenue
• Turn left onto El Camino Real