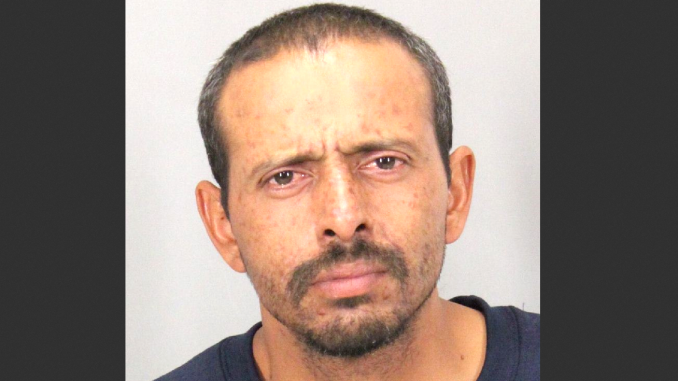 By the Daily Post staff
Palo Alto police said today (Nov. 11) that they have arrested a man accused of torching the abandoned Compadres Mexican Bar & Grill on El Camino Real on Saturday night and setting a Jeep Wrangler on fire in the 400 block of Curtner Ave. 50 minutes earlier.
Arrested was Osvaldo Madrigal, 37, of Menlo Park, who was on probation out of Santa Clara County for assault with a deadly weapon, police said.
It all began at 4:18 p.m. Saturday (Nov. 10) when police received a call about a 2016 Jeep Wrangler that was on fire in the 400 block of Curtner Avenue. Employees from a nearby business extinguished the fire before firefighters and police arrived. While police were investigating the fire, they saw a man walking toward Compadres at 3877 El Camino, which has been closed since 2008.
At 5:08 p.m., an officer saw smoke coming from Compadres. Firefighters arrived and found a fire that was already burning through the roof. Inside, they encountered the same man who police had seen walking toward Compadres from the Jeep fire about a block away. Firefighters rescued the man. No other people were inside.
Mountain View Fire Department responded to assist in extinguishing the two-alarm fire, which was contained around 8:30 p.m. Police shut down traffic on El Camino Real between Curtner Avenue and Ventura Avenue for several hours to allow fire personnel to work.
Paramedics took the man, later identified as Madrigal, to a hospital for treatment of minor smoke-related injuries.
Police said it appears Madrigal was illegally squatting inside Compadres.
After he was treated at the hospital, police booked him into jail on two counts of felony arson, misdemeanor trespassing (for entering the vacant building) and a felony probation violation.
The restaurant has been closed since 2008. In September 2017, a plan was approved to build on that parcel a mixed-use project including a three-story commercial building, condominiums and town houses. Construction of that project has yet to begin.
This isn't the first time squatters have been found in the abandoned restaurant.
In February 2016, the Post reported that police found three people inside the building. Police called the owner, who didn't want to file charges against anyone. But the owner did call in crews to board up a portion of the building.
At that time, Sgt. David Lee told the Post that he thought people had been staying in the building for awhile.