By the Daily Post staff
Grace Mah's lead over Melissa Baten Caswell in the race for Santa Clara County Board of Education Trustee Area 1 is growing as more votes are counted.
On Election Night, Mah led 50.6% to 49.4% for Caswell.
As of today (Friday, Nov. 6), Mah has a 51.3% lead.
Mah has 38,718 votes to 36,821 for Caswell.
Mah is backed by the state's charter schools while Caswell has the support of teachers unions.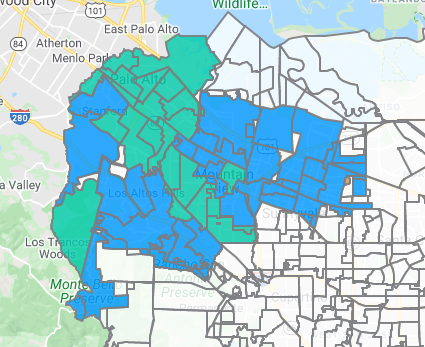 Caswell carried precincts in Palo Alto and Los Altos. She served three terms on the Palo Alto Unified School District's board. Caswell decided not to run again this year and turned her attention to the county Board of Education race.
Mah prevailed in Los Altos Hills, Mountain View and Sunnyvale. Mah, who has been on the county Board of Education since 2007, is seen as a supporter of charter schools, including the controversial Bullis Charter School in Los Altos.
Parents in Los Altos Hills started Bullis when the Los Altos School District closed their community's elementary schools. Bullis has drawn well-to-do families but critics say it shouldn't be a charter that has the ability to use the facilities of public schools, such as the Los Alto School District.
Much of Bullis' support came from Los Altos Hills, and that's where Mah won precincts. But in Los Altos, where anger against Bullis lingers, Baten Caswell won.
Mah received about $200,000 from charter school political action committees. Baten Caswell raised more than $170,000, much of it from unions. Teacher unions have opposed charter schools in California.