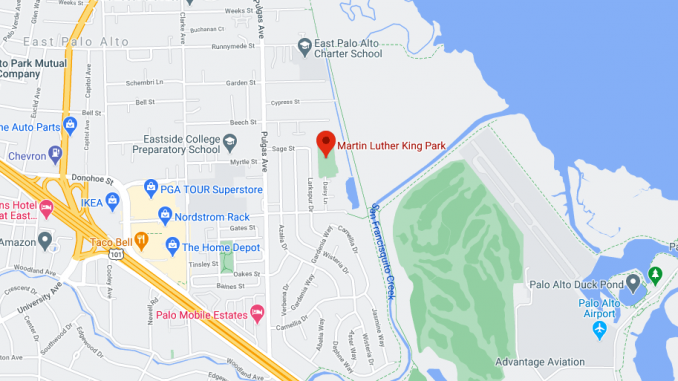 By the Daily Post staff
An unidentified body of a man was found today in East Palo Alto's Martin Luther King Park, and police believe he was a murder victim.
At 10:15 a.m. today, police were dispatched to investigate a body found in the park at 435 Daisy Lane, police said in a statement.
Police said the body had "visible injuries," but didn't elaborate.
Police don't have the victim's name. They only know he's a Latino between 45 and 55 years old, about 5-feet-8, 170-180 pounds, bald with brown eyes.
Police say it's possible the victim was homeless and was living in the park.
This is the fifth homicide in East Palo Alto this year.
Police are asking anyone who knows the victim or has any information about the case to call them at (650) 853-5614 and ask for Detective Robert Weigand.
People can also send an anonymous email to epa@tipnow.org. Tipsters can also text the police anonymously at (650) 409-6792 or leave a voice mail at (650) 409-6792.