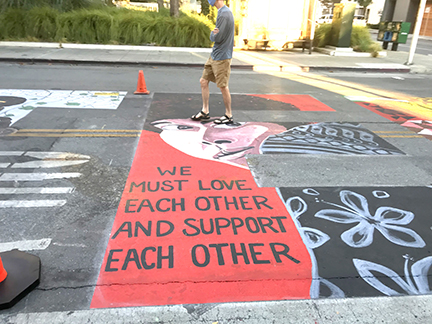 BY EMILY MIBACH
Daily Post Staff Writer
A national police supporters organization says a portion of the Black Lives Matter painted on the street in front of Palo Alto City Hall is offensive to police officers because it includes a picture of a convicted cop killer.
In the letter "E" of the street mural, Oakland artist Cece Carpio painted the likeness of Assata Shakur, also known as Joanne Chesimard, who was pulled over by New Jersey State Troopers on May 2, 1973.
The three occupants of the vehicle opened fire on the troopers. By the time the gunfire had ended, Trooper Werner Foerster and one of the car's passengers had died and the other trooper was injured. Shakur was arrested and convicted of Foerster's murder. She later escaped from prison and fled to Cuba, where she is believed to still be living.
Shakur's likeness on the Palo Alto mural caught the attention of the National Police Association, which is demanding its removal.
"If it is not possible to imagine putting a 17-foot tall mural of nurse killer Richard Speck in front of a hospital or putting a 17-foot tall mural of Dan White, who assassinated San Francisco Mayor George Moscone and Supervisor Harvey Milk, in front of a mayor's house, the atrocity of the celebration of a fugitive convicted cop killer in front of Palo Alto's City Hall is equally reprehensible. For law enforcement required to enter the building, is there any description other than a hostile work environment?" the association said in a statement.
On Wednesday, protesters began parking their cars on the mural to keep it from being defaced. They also told the Post on Wednesday that they were protecting it from the wear and tear of regular traffic.
In a Facebook post about the controversy, artist Carpio wrote about defending her art "once again."
"This is really about defending the movements and communities I am accountable to and work to uplift," Carpio wrote. "As a woman of color, an artist, a muralist and as a cultural worker, I reclaim public spaces and create larger-than-life images to tell stories of our collective experience."
"In thinking about painting letters for this particular Black Lives Matter mural, (that is) supported by the city of Palo Alto, I felt it was important to represent the words and wisdom of Assata, who has been a political refugee since 1979," Carpio wrote.
"Assata was a target of policing and COINTELPRO (an FBI project created to get rid of political dissidents) and is still a target of policing and the U.S. government. They see her involvement with the Black liberation movement as a threat to the status quo. Just as they see the movement to defend Black lives as a threat to racial capitalism and white supremacy," artist Carpio wrote on Facebook.
City won't remove the artwork
City spokeswoman Meghan Horrigan-Taylor said that the mural is anticipated to remain for "up to" a year, and is part of "a larger city dialogue taking place on race and equity and connects to the city's thoughtful conversations on the role of policing."
Horrigan-Taylor said there are no plans to expedite the removal of the mural and "in no way does the mural take away from the value we have in our police officers who serve our community every day."
City Council on June 15 decided that it ought to have Black Lives Matter painted in the area near City Hall. The council at that meeting was discussing how to go forward with police reforms and learning more about the workings of the department. Council that night decided to appoint a series of ad hoc committees of council members that will look into the police department and then report back to the rest of the council.
Council also asked the city's Human Relations Commission to write a report on the history of African-American and Latino residents in Palo Alto.
Local incidents come to the surface
The discussion about policing in Palo Alto was brought to the surface after the swell of support for the Black Lives Matter movement and a recent spate of incidents involving three Palo Alto police officers.
Attendees of the June 15 council meeting called for the firing of Capt. Zach Perron and Agent Tom DeStefano. Some also said that retired Sgt. Wayne Benitez ought to lose his pension.
The city paid $250,000 to settle claims against DeStefano for breaking a man's arm during a traffic stop in 2013. A Buena Vista Mobile Home Park resident, Julio Arevalo, has named DeStefano in a $10 million lawsuit alleging police brutality during an arrest last year at Happy Donuts.
The Daily Post reported last year that Perron used the n-word in 2014 to make a joke to a black officer who has since left the department. An investigation into the incident was kept from the public and afterward Perron was promoted from lieutenant to captain.
Benitez allegedly slammed Buena Vista resident Gustavo Alvarez's head into a car and mocked him for being gay. The city paid $572,500 to settle the suit. Benitez retired during the litigation.
District Attorney Jeff Rosen is looking into whether to prosecute Benitez. NBC Bay Area reported last month that the FBI is investigating the case.