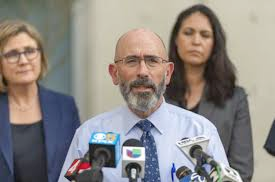 BY SARA TABIN
Daily Post Staff Writer
Before Santa Clara County businesses are allowed to reopen, the county wants to ramp up testing to see who has the COVID-19 virus.
County Manager Jeff Smith said testing site capacity at different hospitals has increased but people might not realize they can get a test. He said some doctors might decide not to prescribe a test based on outdated and restrictive guidelines for who is eligible.
The county is also trying to build a team of people who will track down everyone who has come into contact with a person who has tested positive. Smith said that team will be lead by former county health officer Dr. Marty Fenstersheib, who retired in 2013.
Supervisor Dave Cortese asked at yesterday's county Board of Supervisors meeting on Tuesday whether there are privacy concerns if the county is instructing workers who aren't doctors to find out people's medical information.
County Health Department Director Dr. Sara Cody said everyone on the tracing team will have training about how to handle confidential information. She said no identifying information will be released publicly.
Close contacts will be found with one-on-one interviews with patients, according to a statement from the county. The contacts will be notified and monitored for symptoms.
When people do test positive the county, will ask them to quarantine for two weeks.
Cody said since that this is America, they can't force people to leave their homes and isolate alone. She said the county will try to offer housing, income replacement, child care, food and other resources to allow people to quarantine effectively.
It is not clear what restrictions, if any, will be placed on businesses as they are allowed to reopen.
Supervisor Susan Ellenberg said decisions about business guidelines need to be made in the open.
Supervisor Joe Simitian, who represents Palo Alto, told the Post that precise guidelines won't be known until Cody releases her next stay-at-home order. He said it is likely that businesses will have to adhere to safety measures like those in Cody's current order that allowed construction to commence provided that workers follow specific guidelines.
He said the question Cody has to answer isn't just what activities can restart, it is also about what conditions are needed for them to restart safely.
"As (Cody) considers her next order, she is likely to be asking herself under what circumstances can we reopen various businesses … and will probably come with some set of conditions," he said.
Simitian said the county Board of Supervisors does not have control over Cody's orders. That authority comes from the state.
When asked whether testing might be required for business employees, Simitian said it is conceivable that places like nursing homes with high-risk populations could be asked to test employees.