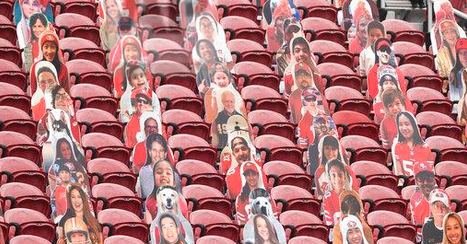 By the Daily Post staff
Get used to seeing cardboard cutouts of fans and hearing fake crowd noises at home games of the 49ers.
The Santa Clara County Health Department today said fans will not be allowed at sporting events "anytime soon." No time frame was placed on when the restrictions would be lifted.
This means no fans will be allowed at Stanford football, San Jose State football, high school football or 49ers games.
The NFL is continuing to play games with empty stadiums and prerecorded fan noise piped in through the loud speakers. Cardboard cutout photos of fans have been placed in some of the seats at Levi's Stadium.
Here's the statement issued by the Health Department today:
"Audiences at professional sporting events will not be allowed anytime soon in Santa Clara County, and theme parks will not resume operation. We must all continue to prioritize reducing the spread of COVID-19, creating conditions that will allow our businesses, schools, and other community organizations to operate safely. As we see COVID-19 rates rising in states across the U.S., and as we enter the winter months when risk will increase, we cannot take chances with the health and wellbeing of our community and forfeit the many sacrifices that have been made to slow the spread of COVID-19."
The county isn't saying when these restrictions would be lifted, or what goals would have to be met for the removal of this fan ban. That's a departure from the color-coded tiers that Gov. Gavin Newsom is using to determine what can reopen in the state's 58 counties.