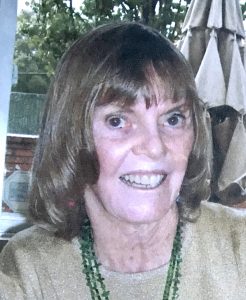 Cindy Baxter loved a good party, almost as much as she loved swimming, running, biking and above all, her family and friends.
Under normal circumstances, her passing would be widely mourned by the scores of her students and friends, but she left us at the height of the pandemic lockdown on June 3, 2020. She was buried in a quiet family ceremony held at Sky Lawn Memorial Cemetery. She was buried next to her beloved husband Joe, who predeceased her by seven years and daughter JoJo, surrounded by the beauty of the Santa Cruz mountains, an abundance of roses and a bagpiper playing beautiful Irish tunes.
An avid athlete, she was best known for teaching a generation or two of Palo Altans to swim at Rinconada Pool and Add Janes Swim School. She competed for decades in swimming competitions, marathons and triathlon events, locally, nationally and internationally. And she was co-founder in 1973 along with her long-time teaching partner, Carol MacPherson, of the first masters swim team in the area, the famed Rinconada Masters.
Cynthia Bradford was born on July 6, 1932 in Illinois to Lt. Commander George and Pauline Arnold Bradford. Her father was a career naval officer during World War II and the family moved frequently to accommodate his postings, settling in Palo Alto when Cindy was 15 years old. She attended Palo Alto High School where she was Block-P president her senior year, where she also met her husband of sixty-two years, Joe Baxter, who was known in the area as the owner of the West Coast Glass Co., founded by his father, Cecil Baxter in the 1930's.
Cindy and Joe were married in 1951 and their first child, Kathy, was born after one year in Illinois, their son, Steve, was born in South Dakota during Joe's military service in the Air Force. In 1956, the family settled into the home they would occupy for sixty-four years. Two daughters, JoJo and Terri, were born in Palo Alto. Two generations of Baxter's and Bradford's graduated from Palo Alto High School from 1949 until 1982.
A natural athlete (Cindy played football with her 2
brothers), she began teaching swimming lessons at Chuck Thompson's Swim School (originally located behind the Winter Club ice skating rink in Midtown) and the Add Janes Swim School in Menlo Park where she teamed up to coach with her long-time friend Carol MacPherson. In 1973, Cindy and Carol started the Rinconada Masters swim program in Palo Alto where she remained as a coach until 1999. This was the first master swim program in the area and grew to over two hundred swimmers who participated in competitions throughout the area, the nation and internationally.
Cindy's first love as an athlete, however, was running. She ran three marathons, Bay to Breakers for decades, triathlons and earned medals in all of them. Her best reward, she claimed was the euphoria she felt while running. After competing in multiple track and field events at the 1992 Senior Master Games at Stanford, she was awarded the "Most Inspirational Athlete" award, this after recovering from a traumatic head injury a few months previous. Her swimming awards, too many to print, included the Capt. Ransome J. Arthur Award in 1980, the highest award given by the United States Masters Swimming Association, for her contributions to the development of masters swimming. In 1979, she was the top master swimmer in the world (in her age group) in the 400 meter I.M., second in the 200 meter butterfly and second in the 100 meter backstroke. Cindy loved to compete.
Cindy continued to swim after her retirement in 1999, but also turned to recreational tap dancing which she had begun to do with friends in the late 1980's. She dabbled in gardening and folk art. She traveled, but primarily was engaged with her now very large family. Kathleen Baxter Tullus, a versatile athlete and Block-P president at Paly was born in 1952, managed the family West Coast Glass Company for thirty years and now lives in Coarsegold, California. Steve Baxter attended UCLA where he was the PAC-8 champion in the 100 yard butterfly and AAU long course national champion in the 100 meter butterfly. He and his wife An (Simmons), a former world record holder who made the 1972 US Olympic Team in freestyle, live in Fresno, California. Jojo Baxter born in 1959, was a C.C.S. high school swimming champion who passed away in 2011. Terri Baxter-Smith born in 1964, a national champion in the breaststroke events, attended Arizona State University, made the 1980 US Olympic Team in both breaststroke events. Married to Lt. Commander (retired) Tom Smith, who also competed as a swimmer for the University of Pittsburgh, is a lawyer. Terri, familiar as a coach and lifeguard at Rinconada pool, returned to Palo Alto in 2013 to nurse her mother during her long illness. Cindy was a proud and loving grandmother to seven grandchildren and four great grandchildren.
There will be a celebration of Cindy's life when the pandemic ends.