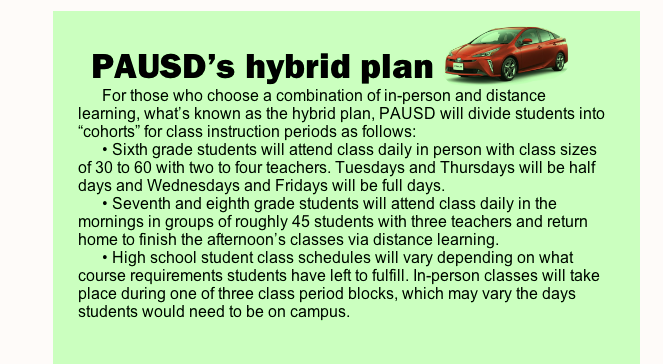 BY KYLE MARTIN
Daily Post Staff Writer
Teachers, students and parents called in last night (Nov. 10) to express their disapproval of the Palo Alto school district's plan to bring pupils back to school through a hybrid of distance- and in-person learning in January.
The board voted unanimously to move forward with the plan to start hybrid in-person learning in secondary schools. Both student representatives — Medha Atla of Paly and Stephen Lee of Gunn — voted against the proposal, though their votes don't legally count toward the board's action.
Between Nov. 11 and Nov. 18 at 5 p.m., the families of students will have to choose between distance learning or a hybrid of in-person and distance learning for the semester starting in January.
Superintendent Don Austin told the board he was confident they were doing the right thing for students and teachers in getting them back into classrooms, and he asked the public to see the coronavirus as "the enemy" that has harmed students' learning, not the board or any other entity.
"Covid is the enemy, not the unions, not the school board, not your principal, not the superintendent, not your teachers, not your parents," Austin said.
He added that about six weeks ago, getting students back into schools looked "impossible" to the board and said putting students back in class now could be a potential "victory."
Austin said returning students back to school will not be easy, but "I hope we're a district that chooses the tougher route every time."
Still, several teachers phoned into last night's meeting to say they didn't think the district's plan would work.
"I'm very concerned that the community does not have a good picture of what's going on in terms of students who choose full-distance learning," said Caitlin Evans, a Palo Alto High School teacher. She said she worries students are unaware of the loss to their education because the model of learning proposed by the district excludes instruction for several electives and other classes outside of the basic English, science, history and math classes.
Lucy Flippu, also a Paly teacher, told the board "just because something is hard doesn't mean it's right."
"Students who are at risk are already telling me they don't want to come back, (that) they don't even like school," Flippu said. "This is too much disruption. We need more time to think about it."
If more than 40% of students across the district choose the hybrid plan, there will be a lottery system implemented to decide who will be taught in person.
The school district's plan is to begin transitioning students back into classrooms starting Jan. 7.
Students who choose in-person classes will have to wear face coverings and will be screened for symptoms of sickness before entering school. Lunches will be provided free for all students 18 years old or younger. Desks at school, which will have to be cleaned before and after use by students, will be physically distanced by at least six feet and just English-Language Arts, History-Social Science and Science classes will be taught in-person. Other subjects will remain online or will be dropped from next semester's curriculum.
"By opening, you're voluntarily increasing the risk of Covid," student Athena Chen told the board. She said she and her family are concerned about her safety and that of her elderly grandfather, who lives with them. And she asked the board to reconsider the plan.
In a report to the board, Associate Superintendent of Educational Services Sharon Ofek wrote that the proposed new learning models will help schools "minimize the impact of a student or staff member who tests positive for Covid-19 or has been in close contact with a confirmed Covid-19 case."
The report also said students may be reassigned teachers because of their new schedules.
And before the public comments portion of the meeting, Ofek told the board the district's plan is "pedagogically not the most sound," acknowledging shortcomings later pointed out by teachers, students and other public commenters. She also said the district will decide later which students could get priority for in-person learning after the signup window closes.
"We know that students want much more than what is shared in this model, but this is the safest model that we were able to prepare and present to you this evening," Ofek said.
She said later, "it's important to acknowledge that we are aware of the complexities, but we are proposing this because we think we can do it."